Book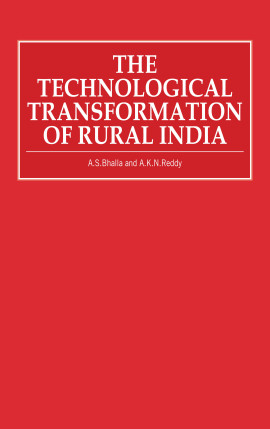 The Technological Transformation of Rural India
Published: 1994
Pages: 256

eBook: 9781780446196
Paperback: 9781853391996
Using case studies from India this book presents a conceptual model of commercialization of rural technologies in developing countries. It concludes that India has not placed enough emphasis on ensuring the efficiency of small-scale production units.
Preface viii

List of abbreviations x

list of tables xii

List of figures xiii

Notes on the contributors xiv

INTRODUCTION A.S. BHALLA and AMULYA K.N. REDDY 1

Technological transformation 2

The Indian rural economy 5

Some salient features of case studies 10

Scope of the volume 16

PART ONE: CONCEPTS, ISSUES AND POLICIES

1. The commercialization of improved technologies in

rural areas

K.N. KRISHNASWAMY and AMULYA K.N. REDDY 23

Interactions between technology and society in mixed

market/non-market economies 24

Classification of rural technologies from the viewpoint

of commercialization 28

A model of commercialization of rural technology 30

Barriers to commercialization 35

Concluding remarks 42

2. Effective design and diffusion of rural technologies

ASHOK KHOSLA 44

Traditional technology 45

Frontier technology 46

Appropriate technology 48

Sources of innovation 50

Adapting technologies 51

Organizational initiatives for innovation 57

Conclusion 62

Appendix: The technology package 62

3. Policies for rural industries and rural technologies

DEVENDRA B. GUPTA 64

Rural industrialization 64

An assessment of government programmes and policies 70

Programmes 71

Policies 76

Rural industry and technology policy 83

Conclusion 85

4. Institutional aspects of the diffusion of renewable

energy technologies

R. BHATIA 87

The diffusion of renewable energy technologies: an analytical

framework 88

Renewable energy programmes in India 91

Organizations involved in energy questions 96

The role of institutions in technology diffusion 100

Institutional innovations for improved implementation 106

Conclusion 110

PART TWO: CASE STUDIES

5. Experiences of the Khadi and Village Industries

Commission in technology transfer

YASHWANT A. PANDITRAO 113

Origin of the KVIC and fields of activity 114

The role of KVIC in research and development and technology

transfer 116

Lessons from the KVIC experience 130

6. The role of non-governmental organizations in the

diffusion of rural technologies

DEVENDRA KUMAR 133

Sources of technology for NGOs 133

How NGOs select rural technologies for diffusion 135

Experience of NGOs engaged in rural technology dissemination 136

The role of training 141

Conclusion 142

7. The diffusion of biogas systems

R. BHATIA, R. LICHTMAN, A. PEREIRA and W. TENTSCHER 145

Technical and economic status of biogas systems 145

India's National Project on Biogas Development (NPBD) 148

Rethinking the NPBD's diffusion policy 159

Conclusions 161

8. The Pura community biogas plant (Karnataka)

K.N. KRISHNASWAMY and AMULYA K.N. REDDY 164

The experience at Pura 165

Individual versus collective initiatives 169

Conclusion 172

9. The ASTRA stove (Karnataka)

K.N. KRISHNASWAMY and AMULYA K.N. REDDY 174

The origin of the ASTRA stove 174

The ASTRA stove technology 175

The idea generation phase 178

The research, development and design phase 181

The dissemination phase 181

An evaluation of the large-scale diffusion programme 186

Implications of the ASTRA stove experiment for technology

generation and dissemination 188

10. Mini grain mills

K.N. KRISHNASWAMY and AMULYA K.N. REDDY 190

The limitations of Western technology 190

Alternative technology 192

Design criteria and cost considerations 193

The dissemination of mini grain mills 196

Conclusion 200

11. The small-scale farm machinery industry in Uttar

Pradesh

S.C. MISHRA 201

The industrial economy of Uttar Pradesh 201

The farm machinery survey 203

Technological change in the Uttar Pradesh farm machinery

industry 214

Marketing agricultural machinery 217

Conclusions and policy implications 219

Notes and references 222

Selective bibliography 231

Index 235
A. Reddy
Amulya Reddy is President of the International Energy Initiative, and a member of the Scientific and Technical Advisory Panel, Global Environment Facility, World Bank, Washington, DC. Formerly he was Chairman of the Department of Management Studies, and Professor at the Centre for the Application of Science and Technology to Rural Areas (ASTRA) at the Indian Institute of Science, Bangalore, India
A S Bhalla
A S Bhalla is Chief of the Employment Strategies Branch, International Labour Office, Geneva. Previously he was Chief, Technology and Employment Branch, ILO; Hallsworth Professorial Fellow in Economics at the University of Manchester, United Kingdom; visiting Research Associate at the Economic Growth Center, Yale University; Research Officer at the Institute of Economics and Statistics, Oxford University; and University Tutorial Fellow at the University of Delhi.