Book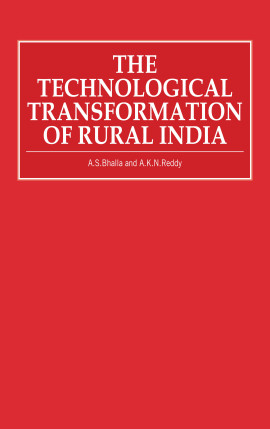 The Technological Transformation of Rural India
Published: 1994
Pages: 256

eBook: 9781780446196
Paperback: 9781853391996
Using case studies from India this book presents a conceptual model of commercialization of rural technologies in developing countries. It concludes that India has not placed enough emphasis on ensuring the efficiency of small-scale production units.
Section Title
Page
Action
Price

9781780446196.000

1

9781780446196.001

17

9781780446196.002

37

9781780446196.003

60

9781780446196.004

80

9781780446196.005

103

9781780446196.006

127

9781780446196.007

149

9781780446196.008

161

9781780446196.009

180

9781780446196.010

190

9781780446196.011

206

9781780446196.012

217

9781780446196.013

238
A. Reddy
Amulya Reddy is President of the International Energy Initiative, and a member of the Scientific and Technical Advisory Panel, Global Environment Facility, World Bank, Washington, DC. Formerly he was Chairman of the Department of Management Studies, and Professor at the Centre for the Application of Science and Technology to Rural Areas (ASTRA) at the Indian Institute of Science, Bangalore, India
A S Bhalla
A S Bhalla is Chief of the Employment Strategies Branch, International Labour Office, Geneva. Previously he was Chief, Technology and Employment Branch, ILO; Hallsworth Professorial Fellow in Economics at the University of Manchester, United Kingdom; visiting Research Associate at the Economic Growth Center, Yale University; Research Officer at the Institute of Economics and Statistics, Oxford University; and University Tutorial Fellow at the University of Delhi.