Book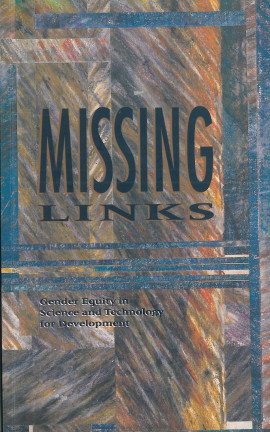 Missing Links
Gender equity in science and technology for development
Published: 1995
Pages: 388

eBook: 9781780442839
Paperback: 9781853392894
Gender differences in the field of science and technology have real consequences for the quality of women's lives and for sustainable human development. In this book gender specialists from around the world probe the topic of indigenous knowledge.
ACKNOWLEDGEMENTS vii

INTRODUCTION 1

Part I Latin America

Banana drying in Bolivia 17

XIMENA MACHICAO BARBERY

Efficient domestic fuel use in Chile 34

WALDO BUSTAMANTE GOMEZ

Building hope: self-management and construction 47

MARCELA ARANCIBIA BALLESTER and ANA MARfA SALINAS BRIONES

Changing attitudes to health in the Dominican Republic 60

LOURDES PERDOMO DE GOMEZ, MARIA DOLORES MATEO

MONTERO and RITA OTTE

Functional pottery in Nicaragua 82

FRANgOISE ROMEO B.

Pork processing in Peru 100

MERCEDES L6PEZ PINEDO

The preparation of Andean products in Peru 109

MARfA ESTRELLA CANTO SANABRIA

Coping with a lack of electricity in marginal urban areas 122

LOURDES PALAO YTURREGUI

Vegetable production units in Venezuela 134

LUIS MIGUEL ABAD, IGNACIO ALZURU, LOKMAN GONZALEZ, ROSENDO

MORENO and JAVIER VAZQUEZ

Part II Africa

Shea butter extraction in Ghana 157

YVONNE WALLACE-BRUCE

Pottery technology in Kenya 162

JOSEPHINE A. MUTAGAYWA

Indigenous vegetables in Kenya 167

WINNIE OGANA

Salt extraction in Sierra Leone 172

BERNADETTE LAHAI

Fermented foods in Sudan 177

HAMID A. DIRAR

Cassava processing in Uganda 181

ERIOTH SIMWOGERERE

Nkejje fish in Lake Victoria 185

IRENE FLORENCE WEKIYA

Survival skills of Tonga women in Zimbabwe 188

RODGER MPANDE and NOMA MPOFU

Part III Asia

Land reclamation in Bangladesh 197

AYESHA SHANJAHAN

Manual silk reeling in India 207

PRABHA SHEKAR

Carpet making in Nepal 231

PRABHAR THACKER

Coir workers in Sri Lanka 249

KAMALA PEIRIS

Food processing in Sri Lanka 275

PADMINI ABEYWARDENE

CONCLUSION 298

REFERENCES 306
Thinking BIG to Accelerate Gender Equality and Transformation in the ICTs Arena
Marcelle, Gillian M.
Gender, Technology and Development, Vol. 8 (2004), Iss. 1 P.31
https://doi.org/10.1177/097185240400800103
[Citations: 4]
Actions developed by the Brazilian Physiological Society to promote women's participation in science
Mello-Carpes, Pâmela B.
Abreu, Alice Rangel de Paiva
Staniscuaski, Fernanda
Souza, Mauren Assis
Campagnole-Santos, Maria Jose
Irigoyen, Maria Cláudia
Advances in Physiology Education, Vol. 43 (2019), Iss. 2 P.199
https://doi.org/10.1152/advan.00216.2018
[Citations: 2]
Handbuch Frauen- und Geschlechterforschung
Wissenschafts- und Technikforschung
Harding, Sandra
2010
https://doi.org/10.1007/978-3-531-92041-2_36
[Citations: 0]
A Companion to Gender Studies
Science and Technology
Harding, Sandra
2017
https://doi.org/10.1002/9781405165419.ch16
[Citations: 0]