Book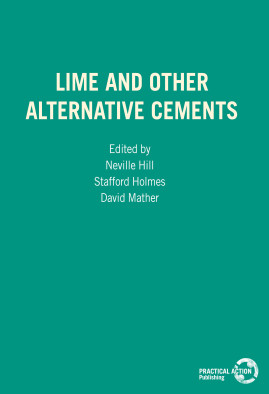 A cement material, or binder, is an essential ingredient in most forms of building construction. Portland cement has become a widely accepted cementitious material, but it is more expensive than other binders and unsuited to small-scale production. In addition, although it is stronger than most alternatives, there are uses for which alternatives such as lime are more suited. Lime is versatile, durable and suitable for use in complex and intricate decorative and restoration work, as well as in simple buildings. If greater strength is required, a variety of materials known as pozzolanas can be added to the lime. Examples of pozzolanas include rice husk ash, brick dust and certain types of naturally occurring volcanic ash. The most successful material in any area depends on local primary resources and the development of appropriate technology. Lime gypsum and lime pozzolanas could be reintroduced successfully if more information were available and appropriate building standards enforced. This book brings together expert knowledge from around the world about the use of different alternative binders, presenting case histories which demonstrate the successes and the pitfalls, as well as practical information based on experience. A recurring theme in the book is the need to work towards the wider acceptance of lime, and alternative binders by: establishing realistic performance standards for alternative cements and getting these standards accepted in international, national and local building codes and standards. Establishing simple testing procedures to measure compliance with these performance standards; holding seminars and training courses and compiling case study material on existing production and use; and, initiating research and development projects of a practical nature.
Preface 7

Acknowledgements 8

Introduction 9

1 Credit interventions: context and history 15

Macroeconomy and policy environment

Experience with rural credit schemes

Summary

2 Women's work and income 23

Household based production

Control over income

Reproductive work

The importance of self-employment

Characteristics of women's enterprises

Dynamics and development patterns of women's enterprises

Summary

3 Women and finance 33

Savings

Decision making and place in production

Possibilities, problems and consequences of finance

Summary

4 Informal finance 43

Informal finance sources

Self-finance and loans from relatives and friends

Rotating and non-rotating funds

Moneylenders and pawnbrokers

Wholesale traders and shopkeepers

Sharecropping arrangements

Summary

5 Development programmes and 'semi-formal' 53

financial institutions

Credit within multiple service programmes

Income generating projects for women

Rotating and revolving funds

Savings and credit unions and cooperatives

Peoples' banks

Summary

6 Women and the formal financial system 69

Formal financial institutions and poor women

Barriers and possible solutions: a challenge to banks

Risk reduction

Transaction costs and incentives to banks

Long-term access to and sustainability of financial services

The performance of financial institutions

Summary

Epilogue 87

Appendix 1: Gender 91

Appendix 2: Symposium participants 93

Appendix 3: Symposium papers 95

Bibliography 97

6 FINANCING
Stafford Holmes Stafford Holmes is a United Kingdom based professional architect not only with great enthusiasm for lime but also with much knowledge and experience. He has made inputs into projects in many different countries and has been involved with various groups promoting the use of lime.
The use of volcaniclastic material in Roman hydraulic concretes: a brief review
Siddall, Ruth
Geological Society, London, Special Publications, Vol. 171 (2000), Iss. 1 P.339
https://doi.org/10.1144/GSL.SP.2000.171.01.24
[Citations: 4]
Characterization of Calcium Carbonate, Calcium Oxide, and Calcium Hydroxide as Starting Point to the Improvement of Lime for Their Use in Construction
Galván-Ruiz, Miguel
Hernández, Juan
Baños, Leticia
Noriega-Montes, Joaquín
Rodríguez-García, Mario E.
Journal of Materials in Civil Engineering, Vol. 21 (2009), Iss. 11 P.694
https://doi.org/10.1061/(ASCE)0899-1561(2009)21:11(694)
[Citations: 133]