Book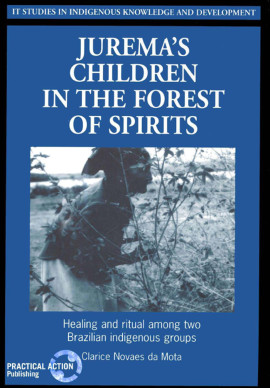 This in-depth study examines the colonized native groups of the Kariri and the Shoko of North-eastern Brazil and it shows how a threatened minority group can effectively help to shape its future and how small groups of disenfranchized individuals can recover their ethnic identity and human dignity. The significance of this study extends far beyond these groups alone, and the book will be of interest to students of ethnicity, folklore, ethnobotany and epistemology. Published in the Indigenous Knowledge and Development series.
Introduction 1

1. Ethnohistory and cultural identity 9

2. Ouricuri ritual, secrets and power 25

3. Space and time 38

4. Nature's kinfolk 57

5. The healing universe 70

6. Materia Medica and sets of health conditions 85

7. Conclusions: ethnicity, cognition and survival 92

Notes 104

Appendix 107

Glossary 123

Bibliography 128
Clarice Novaes da Mota
Clarice Novaes da Mota is Program Associate for Brazil at IPAS/USA, IPAS Brazil and Adjunct Professor at the Instituto de Filosofia e Cincias Sociais, Universidade Federal de Rio de Janeiro.
Paint It Black or Red: Serious Play in Brazil's Northeast
French, Jan Hoffman
The Journal of Latin American and Caribbean Anthropology, Vol. 27 (2022), Iss. 1-2 P.101
https://doi.org/10.1111/jlca.12589
[Citations: 0]
A Tale of Two Priests and Two Struggles: Liberation Theology from Dictatorship to Democracy in the Brazilian Northeast
French, Jan Hoffman
The Americas, Vol. 63 (2007), Iss. 3 P.409
https://doi.org/10.1017/S0003161500063811
[Citations: 6]