Book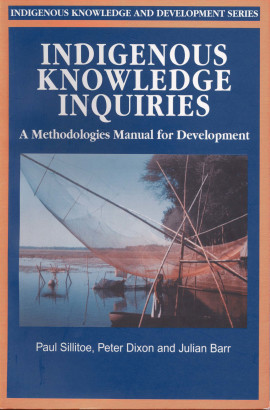 This manual is for development programme managers and project leaders who wish to incorporate an indigenous knowledge element into their work. The guidelines acknowledge that the design and management of IK-informed projects involve making decisions about many closely interrelated issues. They take cost, time and scope of objectives as the principal design issues. The methodology also deals with issues of team functioning that critically inform project success. The guidelines make reference to project cycle management in the context of natural resources indigenous knowledge research, and present options for reducing conflicts and more effectively including the views of primary stakeholders. Novel topics are covered, such as computer aided analysis of qualitative data and the use of cross-cultural research staff. The methodology is grounded in anthropological and development research, and attempts to be critically aware of contemporary reflective practice. Whatever your interest in indigenous knowledge you will find this book a fascinating and insightful handbook.
PART 1: INTRODUCTION TO INDIGENOUS KNOWLEDGE PROJECTS

Introduction

Definition

Background

Justification

Methodology

PART 2: DESIGN AND MANAGEMENT OF INDIGENOUS KNOWLEDGE PROJECTS

Design and management of projects

Project design considerations

The indigenous knowledge cube

V a decision framework

The cube axes

Eight indigenous knowledge project scenarios

Project and team management

PART 3: TOOL BOX OF METHODS FOR INDIGENOUS KNOWLEDGE PROJECTS

Participant observation

Interviewing/discussion

Wealth ranking/well-being or vulnerability ranking/social mapping

Mapping

Venn diagramming/institution analysis

Farm walk

Transect

Seasonal calendar/pattern chart

Taxonomies

Webbing

Flow chart/process diagram

Historical comparison/time lines

Group discussion/focus groups

Participating technology analysis

Strengths and weaknesses

Sorting and ranking

Matrix

Five questions

Problem/option census

Brainstorming

Assessment workshops/envisioning

Data analysis tools

Other tools

PART 4: FURTHER SOURCES AND REFERENCES FOR INDIGENOUS KNOWLEDGE PROJECTS

Key references

Indigenous knowledge newsletters

Indigenous knowledge web sites

Bibliography (including references cited in text)

Index
Paul Sillitoe
Paul Sillitoe is professor of Anthropology at the University of Durham, UK.
Peter Dixon
Peter J. Dixon is Research Associate in Anthropology at the University of Durham.