Book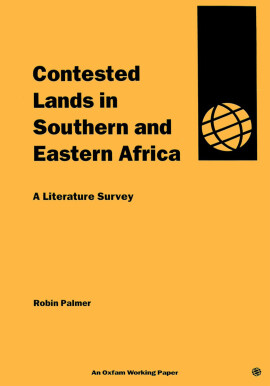 Contested Lands in Southern and Eastern Africa
A literature survey
Published: 1997
Pages: 310

eBook: 9780855986834
: 9780855983918
Questions of land tenure and land reform and their impact on poor and vulnerable communities are of vital importance throughout Southern and Eastern Africa. From the vast literature on the subject, Robin Palmer has selected and summarised more than 300 recent books, articles, academic theses and reports of conferences and workshops. This survey includes studies of Angola, Botswana, Kenya, Lesotho, Malawi, Mozambique, Namibia, Rwanda, South Africa, Swaziland, Tanzania, Uganda, Zambia, and Zimbabwe. In addition to major sections on economic and legal issues, special section feature studies of Land and Pastoralism and Land and Women.
9780855986834.000 1
9780855986834.001 11
9780855986834.002 43
9780855986834.003 59
9780855986834.004 83
9780855986834.005 115
9780855986834.006 147
9780855986834.007 165
9780855986834.008 195
9780855986834.009 233
9780855986834.010 269
9780855986834.011 295
Robin Palmer
Robin Palmer is a global land rights policy specialist, with a particular focus on Southern and Eastern Africa and South-East Asia. He has undertaken consultancy work on land rights issues for DFID, Danida, the EU, the Legal Resources Centre of South Africa and Oxfam. He is currently working on global land grabbing and continues to manage Oxfam's prestigious Land Rights in Africa website.