Book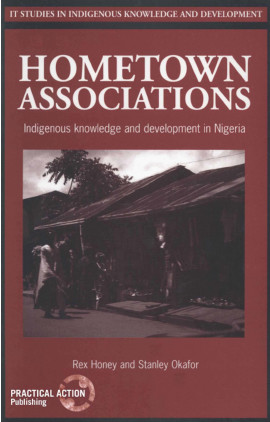 This book focuses on the Nigerian hometown association (HTA). HTAs are based on ties of kinship and ancestry, but are products of migrations and urbanization and are therefore of contemporary vintage. Associational life was, and remains, an important part of Nigerian social structure, and hometown associations have evolved into the most visible form of that associational life. Though they vary in many respects, HTAs have a few common properties, a crucial one being that they have significance both at home and abroad. At home, the focus is on improvement, though the specifics of what is to be improved and who decides is the subject of struggle. Abroad, the focus is dual - maintaining connections with home but also providing a supportive environment for people in a place where they are regarded as strangers. These studies illuminate the vitality of a fast-developing society. They include case studies of hometown associations operating across the country, as well as integrative studies comparing the HTAs across such important dimensions as gender relations, connections to formal government, and as agents of change.
Foreword by D. MICHAEL WARREN V
Acknowledgements vii
List of Figures viii
List of Tables viii
Introduction 1
PART I, PROLOGUE
1. Hometown associations as a means of governance in Nigeria
REX HONEY AND STANLEY I. OKAFOR 3
2. The nature of hometown voluntary associations in Nigeria
STANLEY I. OKAFOR AND REX HONEY
PART n, CASE STUDIES
3. The hometown association as a community development
agent: the Ijebu-Jesa Union
A.S. AGUDA 17
4. The changing roles of a hometown association in
community development: The Fiditi Progressive Union
BOYE AGUNBIADE 25
5. Hometown associations as development catalysts:
The Case of the Egbe Ibile Omo Awe
MARK F. LAWRENCE AND S. TUNJl T1TILOLA 36
6. Civil society and participation: A Case Study of
the Egbe Omo Ilu Okuku
BISI OYEGOKE 45
7. Community mobilization and development:
The Asaba Development Association
STANLEY I. OKAFOR 53
8. Development and territoriality of a hometown association:
The Odimodi Ebidou Bene
CHRIS IKPORUKPO 64
9. Hometown associations and conflict management:
The Experience of the Agila Development Association
PITA OGABA AGBESE 75
10. The Iyakpi Progressive Union's role in participatory
development
I.B. BELLO-IMAM 89
11. Empowerment of women through associational life:
the Eziowelle Improvement Association
NKECHI MBANEFOH 101
12. Hometown associations as shadow states:
The case of Igbos and Yorubas in Kano
EGHOSA OSAGHAE 111
PART m, SYNTHESIS AND ANALYSIS
13. Women's participation in hometown associations
LARAY DENZER AND NKECHI MBANEFOH 123
14. The role of hometown associations in territorial conflict in
jurisdictional transformation
REX HONEY AND STANLEY I. OKAFOR 135
15. Structure, agency and the modification of indigenous institutions
REX HONEY 142
Notes 154
Bibliography 166

Rex Honey Rex Honey (1945-2010) Rex was a co-founder of the UI Center for Human Rights and helped to launch its new certificate program; he served as the Center's associate director from 1999 to 2006. He also served as director of the UI's Crossing Borders Graduate Training Program (2006-10), the African Studies Program, and the Global Studies Program (now the BA Program in International Studies).
Stanley I Okafor Stanley I. Okafor is a professor in the Department of Geography. His teaching and research interests include Political Geography, Medical Geography, Regional Development, Urban Geography and Geographic Thought. At the time of writing, his research includes the impact of neoliberal reforms on health care provision and the role of hometown associations in promoting development.