Book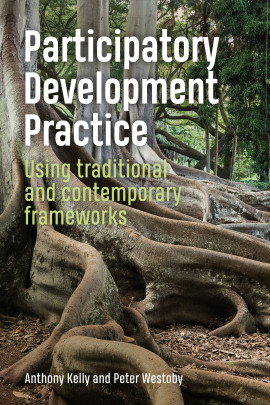 Participatory Development Practice
Using traditional and contemporary frameworks
Published: 2018
Pages: 234

eBook: 9781780449982
Paperback: 9781853399992
Hardback: 9781853399985
From indigenous people's groups, classroom teachers, and local and international community workers comes the desire to build community. Participatory Development Practice provides a theoretical and applied base for rethinking development practice that is deeply influenced by a 'community' development tradition having its roots in participation and dialogue, yet is broader than that. The book makes the link from the intra-personal to the community and beyond, into the inter-organizational and international domains now required of twenty-first century development work.

The book is framed conceptually as implicate method (starting with positioning self), micro (developing constructive relationships), mezzo (forming small participatory groups), macro (structuring participatory work within formal organizations) and meta (working with both local to global and global to local issues).

Kelly and Westoby draw on diverse traditions of thought and practice, including the written works of author-activists such as Gandhi, Freire, Fanon, and the unwritten oral traditions of female workers in Asia, and First Peoples. The result is a true and tested methodology using frameworks of good ideas born from practice wisdom, that have come from research and reflection on 70 years of combined experience.

Participatory Development Practice helps experienced practitioners, as well as scholars and students of international development, community development and social work, to reflect critically on the concepts and assumptions guiding their work. It is also aimed at corporate actors within community relations departments of major industry who increasingly interact with the public.

Acknowledgements

About the authors

Joining journeys: an introduction

1. Building common ground: frameworks and framing the work

2. Implicate method: positioning self for the work with a practice framework

3. With one another: the craft of micro method

4. Taking steps together: the craft of mezzo method

5. Building development organization: the craft of macro method

6. From the local to the global: the craft of meta method

7. Promissory notes and reflections: together on common ground

Index
This is a must-read for any development worker wanting to avoid the many pitfalls of colonial, managerial and oppressive practice – which has done such harm – but instead to practice with integrity, humility, honesty and commitment. It is a rich mix of gentle humanity and intellectual analysis. It is not easy to be a good development worker (and all too easy to be a bad one), and Anthony Kelly and Peter Westoby, from their rich experience, provide readers with the challenge of developing their own creative practice frameworks, while at the same time presenting a profound vision of what genuinely human-centered development work can be.
Professor Jim Ife, School of Social Sciences and Psychology Western Sydney University

'This work represents an important contribution in the ongoing effort to provide critical analysis, perspective and input on participatory development practice. The authors show that much can be learned and linked when a combination of love, dialogue and action are nurtured and applied systematically and with careful attention in communities. Moreover, the topic of poverty and all its complexities can best be addressed when a community development practice framework is seen as both integral and essential emphasizing the importance of cultivating relationships, from local to global between individuals, organizations and institutions. Students new to the field as well as experienced practitioners and development workers will benefit from this collection of chapters that remind us yet again that with community development work, the process is the outcome.'
Paul Lachapelle, Associate Professor Community Development, Montana State University, President, International Association for Community Development 2016-2019
Anthony Kelly
Anthony Kelly has been involved in development work for more than forty years. He taught development practice at The University of Queensland for twenty-five years. In more recent years Anthony has worked with a range of transnational mining companies helping them form productive relationships with local communities.
Peter Westoby
Peter Westoby has been involved in development practice for over thirty years, working as a grassroots practitioner, facilitator and scholar in diverse contexts such as Australia, PNG, the Philippines, Vanuatu, India, South Africa and Uganda. He is currently Associate Professor of Social Science and Community Development at Queensland University of Technology, Australia, and a Visiting Professor at the Centre for Development Support, University of the Free State, South Africa.
'A community development yet-to-come': Jacques Derrida and re-constructing community development praxis
Westoby, Peter
Community Development Journal, Vol. 56 (2021), Iss. 3 P.375
https://doi.org/10.1093/cdj/bsz013
[Citations: 4]
Changing Contexts of Practice: Challenges for Social Work and Community Development
Lynch, Deborah
Forde, Catherine
Lathouras, Athena
Australian Social Work, Vol. 73 (2020), Iss. 2 P.245
https://doi.org/10.1080/0312407X.2019.1694047
[Citations: 6]
The Heart of Community Engagement: Practitioner Stories from Across the Globe
Westoby, Peter
Community Development Journal, Vol. 56 (2021), Iss. 4 P.748
https://doi.org/10.1093/cdj/bsaa018
[Citations: 0]
Collaborating for transformation: applying the Co-Laboratorio approach to bridge research, pedagogy and practice
Francis, June N.P.
Henriksson, Kristina
Stewart Alonso, Jason
Canadian Journal of Development Studies / Revue canadienne d'études du développement, Vol. 42 (2021), Iss. 3 P.416
https://doi.org/10.1080/02255189.2020.1797650
[Citations: 2]
Re-empowering into voice: experiments in organic community co-production
Green, Roger
Baker, Chris
Community Development Journal, Vol. 57 (2022), Iss. 2 P.277
https://doi.org/10.1093/cdj/bsaa038
[Citations: 0]
Teaching about Decoloniality: The Experience of Non-Indigenous Social Work Educators
Hendrick, Antonia
Young, Susan
American Journal of Community Psychology, Vol. 62 (2018), Iss. 3-4 P.306
https://doi.org/10.1002/ajcp.12285
[Citations: 3]
Reimagining and radicalizing community development practice in south-east Queensland through popular education action research
Lathouras, Athena
Westoby, Peter
Shevellar, Lynda
Community Development Journal, Vol. 56 (2021), Iss. 2 P.283
https://doi.org/10.1093/cdj/bsz008
[Citations: 3]
Community development and social work teaching and learning in a time of global interruption
Lynch, Deborah
Lathouras, Athena
Forde, Catherine
Community Development Journal, Vol. 56 (2021), Iss. 4 P.566
https://doi.org/10.1093/cdj/bsab028
[Citations: 1]
A community development story and portrayal of a phenomenological reflective practice in the social field of paediatric palliative care
Westoby, Peter
Day, Elham
Hawthorne, Fiona
Toon, Matthew Francis Paul
Oldham, Kelly
(2022)
https://doi.org/10.1093/cdj/bsac023
[Citations: 0]
Strategies for Supporting Inclusion and Diversity in the Academy
A Critical-Relational Approach to Community Development That Increases Well-Being, Learning Outcomes and Retention of International Students
Lathouras, Athena
2022
https://doi.org/10.1007/978-3-031-04174-7_6
[Citations: 0]
Strategies for Supporting Inclusion and Diversity in the Academy
A Critical-Relational Approach to Community Development That Increases Well-Being, Learning Outcomes and Retention of International Students
Lathouras, Athena
2020
https://doi.org/10.1007/978-3-030-43593-6_6
[Citations: 3]
The Wiley Handbook of Action Research in Education
Worldwide Perspectives on Action Research in Education
Stringer, Ernest (Ernie)
Dick, Bob
Whitehead, Jack
2019
https://doi.org/10.1002/9781119399490.ch5
[Citations: 0]