Book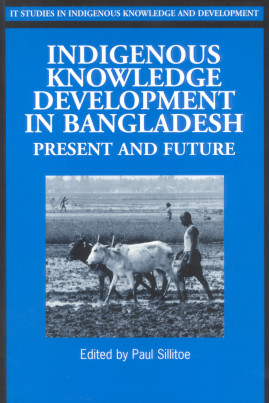 Development has failed to deliver on many of its promises to nations such as Bangladesh. Even worse, it stands accused sometimes of making matters worse, particularly for the poorest of the poor. The policies imposed from above by international agencies and central governments have been sadly at variance with the needs and aspirations of ordinary people. The development 'industry', concerned at evidence of the damage inflicted by its well-intentioned actions, has been searching for some time past for alternative approaches. Indigenous knowledge in development is one of the new approaches being pioneered. It is emerging within the context of increasingly popular participatory approaches. It works from below at the 'grassroots'. It aims to make local voices heard more effectively. If development is to continue to involve outside mediated interventions, in the belief that foreigners have knowledge and resources that can assist in relieving the degrading poverty endured by millions, the policymakers, scientists and bureaucrats need better to appreciate the indigenous view and practices both before and while intervening locally. While the aims of indigenous knowledge research are straightforward, their achievement presents us with some of the largest current challenges in development. It is an exciting time. The work has only recently started in earnest and a great deal remains to be accomplished. If you wish to see more equitable use of resources, this book is a must for you. Indeed, it should be compulsory reading for all those working in the development field.
List of Tables

List of Figures

Contributors

Foreword

Introduction

1 The State of Indigenous Knowledge in Bangladesh 3

2 Indigenous Technical Knowledge: Unexplored Potential for Sustainable Development 23

3 Towards an Understanding of Indigenous Knowledge 27

4 Indigenous Knowledge and Sustainability: On the Brink of Disaster or Revolution? 31

5 Development Disasters: The Role of Indigenous Knowledge and Practices 37

6 Investigating Indigenous Knowledge: A Review of the Bangladeshi Literature on Natural Resources 41

7 Use of Indigenous Knowledge in the Sustainable Development of Bangladeshi Farm Forestry 57

8 Tree Pathology and Bangladeshi Agroforestry Practices 65

9 In Praise of the Indigenous Neem Tree 71

10 Indigenous Knowledge of Plant Use in a Hill Tracts Tribal Community and Its Role in Sustainable Development 75

11 Wild Vegetables: A Valuable Natural Resource for the Rural Poor 79

12 Local Vegetable Seed Storage Methods and Women's Participation in Development 91

13 Medicinal Plants for the Survival of Rural People 97

14 Indigenous Medicinal Plant Use, Sustainabilty and Biodiversity: Learning from the Grameen Bank Experience 107

15 Indigenous Knowledge of Fish and Fisheries: A Pilot Study 117

16 Freshwater Fisheries: Indigenous Knowledge and Issues of Sustainability 127

17 An Indigenously Developed Pond Aquaculture System 131

18 Indigenous Knowledge and Agricultural Research: Conflicts and Complementarities 139

19 Cultivating Indigenous Knowledge on Bangladeshi Soil: An Essay in Definition 145

20 Actors and Rural Livelihoods: Integrating Interdisciplinary Research and Local Knowledge 161

21 Databases, Indigenous Knowledge and Interdisciplinary Research 179

22 Indigenous Knowledge Fieldwork: Interaction with Natural Resource Scientists 197

23 When a Bangladeshi 'Native' is not a Bangladeshi 'Native' 203

24 The Bangladesh Resource Centre for Indigenous Knowledge and Its Network 213

References 219

Index 239
Paul Sillitoe
Paul Sillitoe is professor of Anthropology at the University of Durham, UK.
Ethnic and Cultural Dimensions of Knowledge
The Knowing in Indigenous Knowledge: Alternative Ways to View Development, Largely from a New Guinea Highlands' Perspective
Sillitoe, Paul
2016
https://doi.org/10.1007/978-3-319-21900-4_7
[Citations: 2]
Reciprocity and Its Practice in Social Research
An Extended Case of Reciprocity-in-Kind
2022
https://doi.org/10.4018/978-1-7998-9602-9.ch006
[Citations: 0]
How Vulnerable are Bangladesh's Indigenous People to Climate Change?
Gunter, Bernhard G.
Rahman, Atiq
Rahman, A. F. M. Ataur
(2008)
https://doi.org/10.2139/ssrn.1126441
[Citations: 2]
Rural livelihoods in Sri Lanka: an indication of poverty?
Marzano, Mariella
Journal of International Development, Vol. 14 (2002), Iss. 6 P.817
https://doi.org/10.1002/jid.927
[Citations: 7]
Trust in development: some implications of knowing in indigenous knowledge
Sillitoe, Paul
Journal of the Royal Anthropological Institute, Vol. 16 (2010), Iss. 1 P.12
https://doi.org/10.1111/j.1467-9655.2009.01594.x
[Citations: 39]
A critique of design methodologies appropriate to private-sector activity in development
Coward, Tim
Fathers, James
Development in Practice, Vol. 15 (2005), Iss. 3-4 P.451
https://doi.org/10.1080/09614520500076159
[Citations: 1]
Problems of Defining and Validating Traditional Knowledge: A Historical Approach
Matsui, Kenichi
International Indigenous Policy Journal, Vol. 6 (2015), Iss. 2
https://doi.org/10.18584/iipj.2015.6.2.2
[Citations: 12]