Book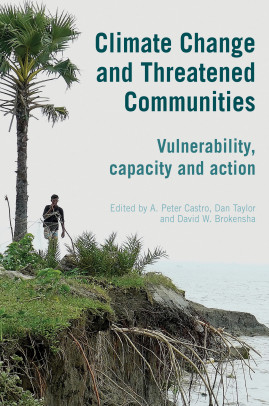 Climate Change and Threatened Communities
Vulnerability, Capacity, and Action
A. Peter Castro, Dan Taylor, David W. Brokensha
Published: 2012
Pages: 224

eBook: 9781780447254
Paperback: 9781853397356
Hardback: 9781853397257
Global climate change disproportionately affects rural people and indigenous groups, but their rights, knowledge, and interests concerning it are generally unacknowledged. Shifts in precipitation, cloud cover, temperature, and other climatic patterns alter their livelihood pursuits and cultural landscapes, accentuating their existing social and economic marginalization. Planners and researchers of climate change mitigation and adaptation must take into account the knowledge and capacity of rural people, and engage them as active participants in the design and governance of interventions.This book documents the capacities and constraints to be encountered among communities facing changing climates. It explores human interactions in environments ranging from subarctic tundra to equatorial rain forest, from oceanic lagoons to inland mountains. It is important reading for policy makers and academics in climate change adaptation, anthropology and development studies.
Prelims (Contents, Tables, About the Editors)

1. Introduction - Climate Change and Threatened Communities

A. Peter Castro, Dan Taylor, and David W. Brokensha

2. Climate change and forest conservation: a REDD flag for Central African forest people?

Philip Burnham

3. Social vulnerability, climatic variability, and uncertainty in rural Ethiopia: a study of South Wollo and Oromiya Zones of eastern Amhara Region

A. Peter Castro

4. Farmers on the frontline: adaptation and change in Malawi

Kate Wellard, Daimon Kambewa, and Sieglinde Snapp

5. Risk and abandonment and the meta-narrative of climate change

Dan Taylor

6. Mobilizing knowledge to build adaptive capacity: lessons from southern Mozambique

J. Shaffer

7. Climate change and the future of onion and potato production in West Darfur, Sudan: a case study of Zalingei locality

Yassir Hassan Satti and A. Peter Castro

8. Comparing knowledge of and experience with climate change across three glaciated mountain regions

K.W. Dunbar, Julie Brugger, Christine Jurt, and Ben Orlove

9. Aapuupayuu (the weather warms up): climate change and the Eeyouch (Cree) of northern Quebec

Kreg T. Ettenger

10. 'The one who has changed is the person': observations and explanations of climate change in the Ecuadorian Andes

Kristine Skarbø, Kristin Vander Molen, Rosa Ramos, and Robert E. Rhoades

11. Good intentions, bad memories, and troubled capital: American Indian knowledge and action in renewable energy projects

Raymond I. Orr and David B. Anderson

12. Reclaiming the past to respond to climate change: Mayan farmers and ancient agricultural techniques in the Yucatan Peninsula of Mexico

Betty Bernice Faust, Armando Anaya Hernández, and Helga Geovannini Acuña

13. Can we learn from the past? policy history and climate change in Bangladesh

David Lewis

14. Local perceptions and adaptation to climate change: a perspective from Western India

Dineshkumar Moghariya

15. Ethno-ecology in the shadow of rain and light of experience: local perceptions of drought and climate change in East Sumba, Indonesia

Yancey Orr, Russell Schimmer and Roland Geerken

16. Local knowledge and technology innovation in a changing world: traditional fishing communities in Tam Giang Cau Hai lagoon, Vietnam

Thanh Vo and Jack Manno

17. Conclusion: some reflections on indigenous knowledge and climate change

Dan Taylor, A. Peter Castro, and David W. Brokensha

Back Matter (Resources, Notes, Index)
A. Peter Castro Professor Castro is Associate Professor of Anthropology in the Maxwell School of Citizenship and Public Affairs at Syracuse University in Syracuse, New York, USA.
Dan Taylor Dan Taylor is the Director of the British NGO Find Your Feet, and Tutor in International Development at the Open University, UK.
David W. Brokensha David W. Brokensha is Professor Emeritus of Anthropology and Environmental Studies at the University of California, Santa Barbara, USA.
A Changing Climate for Anthropological and Archaeological Research? Improving the Climate-Change Models
Roscoe, Paul
(2014) P.n/a
https://doi.org/10.1111/aman.12115
[Citations: 3]
Local indicators of climate change: the potential contribution of local knowledge to climate research
Reyes‐García, Victoria
Fernández‐Llamazares, Álvaro
Guèze, Maximilien
Garcés, Ariadna
Mallo, Miguel
Vila‐Gómez, Margarita
Vilaseca, Marina
WIREs Climate Change, Vol. 7 (2016), Iss. 1 P.109
https://doi.org/10.1002/wcc.374
[Citations: 83]
Potential of Rainwater Harvesting in a Thirsty World: A Survey of Ancient and Traditional Rainwater Harvesting Applications
Akpinar Ferrand, Ezgi
Cecunjanin, Fatima
Geography Compass, Vol. 8 (2014), Iss. 6 P.395
https://doi.org/10.1111/gec3.12135
[Citations: 21]
Role clarification for local institutions: a missing link in multi-level adaptation planning? Insights from a multiple case study in Botswana
Sethamo, Obakeng A.
Karlsson-Vinkhuyzen, Sylvia
Harder, Marie K.
Climate and Development, Vol. 14 (2022), Iss. 4 P.347
https://doi.org/10.1080/17565529.2021.1924109
[Citations: 0]
It's Our Fault: A Global Comparison of Different Ways of Explaining Climate Change
Schnegg, Michael
O'Brian, Coral Iris
Sievert, Inga Janina
Human Ecology, Vol. 49 (2021), Iss. 3 P.327
https://doi.org/10.1007/s10745-021-00229-w
[Citations: 4]
Effects of development interventions on pastoral livelihoods in Turkana County, Kenya
Akall, Gregory
Pastoralism, Vol. 11 (2021), Iss. 1
https://doi.org/10.1186/s13570-021-00197-2
[Citations: 0]
Rural vulnerability to water scarcity in Iran: an integrative methodology for evaluating exposure, sensitivity and adaptive capacity
Zarepour Moshizi, Mahdi
Yousefi, Ali
Amini, Amir Mozafar
Shojaei, Paria
(2022)
https://doi.org/10.1007/s10708-022-10726-0
[Citations: 0]