Book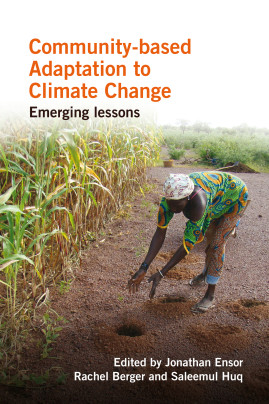 Community-Based Adaptation to Climate Change
Emerging lessons
Jonathan Ensor, Rachel Berger, Saleemul Huq
Published: 2014
Pages: 244

eBook: 9781780447902
Hardback: 9781853397905
Paperback: 9781853397912
As climate becomes less predictable and extreme weather events become more frequent, there is an urgent need for support that will help communities to prepare and adapt to changing conditions. This support is needed at the local level as well as the national, and must be framed by appropriate policy that secures real benefits for those most at risk. 'Community-based adaptation' (CBA) has been extensively piloted by the NGO community to analyse and understand the impacts of climate change. It is vital that development practice on the ground, as well as the knowledge and capacity of those most affected, keeps pace with lessons that have emerged from more than a decade of action and research. This book's findings reflect on experiences of CBA in practice to frame lessons for adaptation planning in developing countries and deepen understanding of CBA among researchers, students and practitioners with an interest in climate change adaptation.
1 Progress in adaptation

2 Power and politics in the governance of CBA

3 A natural focus for CBA

4 Rural livelihood diversification and adaptation to climate change

CASE STUDIES

5 Assessing local adaptive capacity to climate change

6 The role of policies and institutions in adaptation planning

7 Economic analysis of a CBA project

8 Growing rooibos and a stronger community

9 Strengthening the food for assets approach to CBA

10 Indigenous knowledge and experience in adapting drought

11 Emerging lessons for CBA
Jonathan Ensor Jonathan Ensor is a lecturer at the Centre for Applied Human Rights, University of York. He is author of Uncertain Futures: Adapting development to a changing climate and co-author with Rachel Berger of Understanding Climate Change Adaptation.
Rachel Berger Rachel Berger was formerly the climate change policy adviser at Practical Action and is co-author of Understanding Climate Change Adaptation.
Saleemul Huq Saleemul Huq is Director of the International Centre for Climate Change and Development at the Independent University, Bangladesh and a Senior Fellow, International Institute for Environment and Development. He is a Lead Author of the Intergovernmental Panel on Climate Change.
Climate-Smart Agriculture and Smallholder Farmers
Climate-Smart Agriculture and Smallholder Farmers
Sugden, Jodi
2015
https://doi.org/10.3362/9781780446332.001
[Citations: 0]
Addressing vulnerability, building resilience: community-based adaptation to vector-borne diseases in the context of global change
Bardosh, Kevin Louis
Ryan, Sadie J.
Ebi, Kris
Welburn, Susan
Singer, Burton
Infectious Diseases of Poverty, Vol. 6 (2017), Iss. 1
https://doi.org/10.1186/s40249-017-0375-2
[Citations: 31]
Community-based adaptation (CBA): adding conceptual clarity to the approach, and establishing its principles and challenges
Kirkby, Patrick
Williams, Casey
Huq, Saleemul
Climate and Development, Vol. 10 (2018), Iss. 7 P.577
https://doi.org/10.1080/17565529.2017.1372265
[Citations: 35]
Comprehensive plans as tools for enhancing coastal community resilience
Cucuzza, Marina
Stoll, Joshua S.
Leslie, Heather M.
Journal of Environmental Planning and Management, Vol. 63 (2020), Iss. 11 P.2022
https://doi.org/10.1080/09640568.2019.1700943
[Citations: 3]
Meaningful Measurement for Community-Based Adaptation
Faulkner, Lucy
Ayers, Jessica
Huq, Saleemul
New Directions for Evaluation, Vol. 2015 (2015), Iss. 147 P.89
https://doi.org/10.1002/ev.20133
[Citations: 15]
Making Community-Based Adaptation a Reality: Different Conceptualisations, Different Politics
Galvin, Mary
Human Geography, Vol. 12 (2019), Iss. 1 P.50
https://doi.org/10.1177/194277861901200104
[Citations: 3]
Variation in perception of environmental change in nine Solomon Islands communities: implications for securing fairness in community-based adaptation
Ensor, Jonathan Edward
Abernethy, Kirsten Elizabeth
Hoddy, Eric Timothy
Aswani, Shankar
Albert, Simon
Vaccaro, Ismael
Benedict, Jason Jon
Beare, Douglas James
Regional Environmental Change, Vol. 18 (2018), Iss. 4 P.1131
https://doi.org/10.1007/s10113-017-1242-1
[Citations: 11]
Can community-based adaptation increase resilience?
Ensor, J. E.
Park, S.E.
Attwood, S.J.
Kaminski, A.M.
Johnson, J.E.
Climate and Development, Vol. 10 (2018), Iss. 2 P.134
https://doi.org/10.1080/17565529.2016.1223595
[Citations: 32]
Editorial
Darch, Geoff
Proceedings of the Institution of Civil Engineers - Engineering Sustainability, Vol. 170 (2017), Iss. 5 P.235
https://doi.org/10.1680/jensu.2017.170.5.235
[Citations: 0]