Book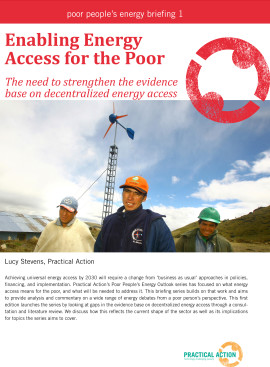 Enabling Energy Access for the Poor
The need to strengthen the evidence
Series: Open Access
Published: 2014
Pages: 12

eBook: 9781780448718
Achieving universal energy access by 2030 will require a change from 'business as usual' approaches in policies, financing, and implementation. Practical Action's Poor People's Energy Outlook series has focused on what energy access means for the poor, and what will be needed to address it. This briefing series builds on that work and aims to provide analysis and commentary on a wide range of energy debates from a poor person's perspective. This first edition launches the series by looking at gaps in the evidence base on decentralized energy access through a consultation and literature review. We discuss how this reflects the current shape of the sector as well as its implications for topics the series aims to cover.
Executive summary

Why evidence is needed

Building the evidence base from the perspective of poor people

Evidence gaps in energy access

Conclusion and way forward

Notes

References
Lucy Stevens
Lucy Stevens is Senior Policy and Practice Adviser with Practical Action, UK. She leads the organisation's influencing and learning strategy on energy access.
Community renewable energy in Panama: a sustainability assessment of the "Boca de Lura" PV-Wind-Battery hybrid power system
Madriz-Vargas, Rolando
Bruce, Anna
Watt, Muriel
Mogollón, Luis G.
Álvarez, Humberto R.
Goodfield, David
Renewable Energy and Environmental Sustainability, Vol. 2 (2017), Iss. P.18
https://doi.org/10.1051/rees/2017040
[Citations: 2]