Book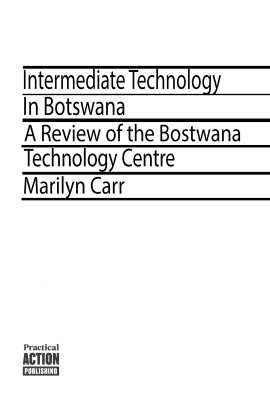 Intermediate Technology in Botswana
Published: 1984
Pages: 60

eBook: 9781780442549
Paperback: 9781853393662
This paper looks at the Botswana Technical Centre (BTC), which was set up in 1975, in response to the need for a co-ordinating body for the collection and dissemination of information, and has been one of the few such ventures to be successful. The paper gives a brief account of the Botswana economy and of the numerous policies, programmes and agencies which relate to technology development and application. Some examples of their work is described and conclusions attempt to assess what can be learned from the BTC experience.
Title Page (page 2)
Copyright Page (page 3)
I. Introduction (page 4)
II. The Environment for Technology Development and Application in Botswana (page 7)
A. General Background (page 7)
B. Government Policy and Institutional Framework (page 10)
Government Policy (page 10)
Institutional Framework (page 12)
Summary (page 19)
III. History and Growth of the Botswana Technology Centre (page 20)
A. September 1975-August 1979 (page 20)
B. September 1979-August 1982 (page 23)
C. 1982 and After (page 28)
IV. Objectives and Method of Work (page 29)
A. Objectives (page 29)
B. Method of Work (page 31)
1. Documentation, Information, Technical Enquiries (page 32)
Information Collection (page 33)
Information Dissemination (page 33)
2. Project Development (page 34)
Responses to Local Agencies (page 35)
Demonstration Projects (page 37)
Major Projects (page 39)
3. Training and Seminars, etc. (page 41)
4. Advocacy and Policy Advice (page 42)
V. Achievements and Problems (page 45)
A. General Overview (page 45)
B. Factors in Success – and Problems (page 47)
Personnel (page 48)
Budget (page 50)
Structure (page 52)
Methodology (page 53)
External Factors (page 54)
C. Lessons Learned (page 55)
Footnotes (page 57)
Glossary (page 59)

Marilyn Carr
Marilyn Carr is Chief of the Economic Empowerment Section of the United Nations Development Fund for Women. She is a development economist with over 20 years experience in Asia and Africa and specializes in the fields of small enterprise development and technology choice and diffusion.