Book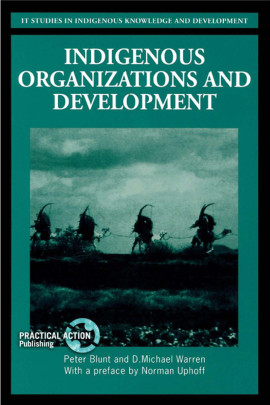 Indigenous organizations are local-level institutions with a community base, such as women's groups, ethnic associations, traditional religious groups, and a wide variety of other social groups.
Preface vii

NORMAN UPHOFF

Acknowledgement xii

Introduction xiii

PETER BLUNT AND D. MICHAEL WARREN

PART 1 AFRICA

1. The drum speaks—Are we listening? Experiences in

development with a traditional Gabra institution—The

Yaa Galbo 1

B.J. LINQUIST WITH DAVID ADOLPH

2. Traditional settlement, cultural identity and rural

development in the Transkei 7

PATRICK A. MCALLISTER

3. Hometown associations: Balancing local and extralocal

interests in Nigerian communities 21

MICHAEL L. McNULTY AND MARK F. LAWRENCE

4. Indigenous organizations and development:

The case of Ara, Nigeria 43

D. MICHAEL WARREN, REMIADEDOKUN AND

AKINTOLA OMOLAOYE

5. The Ogbomoso Parapo: A case-study of an indigenous

development association in Nigeria 50

G. O. KOLAWOLE

6. Community development associations and self-reliance:

The case of Isalu Community Development Union, Iseyin,

Nigeria 56

BOLANLE W. WAHAB

1. The importance of indigenous organizations to the

sustainability of contemporary Yoruba strip-weaving industries

in Iseyin, Nigeria 67

NORMA H. WOLFF AND BOLANLE W. WAHAB

8. Traditional leadership and community management in Northern

Ghana 88

NANCY COSWAY AND STEVE A. ANANKUM

9. Indigenous healer associations and a South African AIDSprevention

project 97

EDWARD C GREEN AND BONGIE ZOKWE

vi Contents

PART II INDIAN SUB-CONTINENT

10. History of an indigenous community management

organization in Nepal 109

DURGA POKHREL AND ANTHONY B. J. WILLET

11. Building on the Panchayat: Using Jal Samitis in Uttar

Pradesh 123

YOGESH KUMAR

12. Informal institutions of financial intermediation: Social

value of Vishis, chit funds and self-help groups 132

TUSHAAR SHAH AND MICHAEL JOHNSON

13. Taking count of the depth of the ditches: Understanding local

organization forms, their problems and strategic responses 143

NIDHI SRINIVAS

PART III ASIA-PACIFIC

Australia and New Zealand

14. Aboriginal agenda or agency agenda? Community-development

planning projects in Australia 159

JACKIE WOLFE-KEDDIE

15. Yolngu rom: Indigenous knowledge in north Australia 184

IAN HUGHES

16. Community development among the New Zealand Maori:

The Tainui case 193

TOON VAN MEIJL

Canada

17. Indigenous organizations for development in the Canadian north:

Native development corporations 214

LEO PAUL DANA

China

18. The role of indigenous organizations in the rural

development of China: A case-study of a non-farm productive

activity 220

LI XIAOYUN, LI OU AND ZHOU SHENGKUN

Indonesia

19. Using indigenous organizations from West Kalimantan 228

CAROL J. PIERCE COLFER, REED L. WADLEY AND

ENIS WIDJANARTI

Philippines

20. Personal networks and agricultural extension in the Philippines 239

RICARDO C. ARMONIA
Peter Blunt From 2008 to November 2011, Peter Blunt held a senior (level GH) staff position with the World Bank in Jakarta, as programme manager of the multi-donor Decentralisation Support Facility that is supporting the government's programme of decentralisation. He is a consultant specialising in governance and public sector management in developing countries. He is currently a Freelance consultant at Blunt and Associates P/L, Sydney, Australia.
D Michael Warren Professor Dennis Michael Warren was an anthropologist and leading Africanist scholar who taught at Iowa State University from 1972 to1997. Professor Warren was especially interested in indigenous knowledge and rural development in Africa. His interest in indigenous knowledge led him to the study of art, culture, the rural economy and traditional healing in Ghana and Nigeria and to comparative studies of other societies.
Managing Co-operation: Trust and Power in Ghanaian Associations
Lyon, Fergus
Organization Studies, Vol. 27 (2006), Iss. 1 P.31
https://doi.org/10.1177/0170840605056392
[Citations: 36]
Environmentality
Struggles over Kumaon's Forests, 1815–1916
2005
https://doi.org/10.1215/9780822386421-004
[Citations: 0]
The resilience and sustainability of local wetland management institutions in Illubabor and Western Wellega, Ethiopia
Dixon, Alan B.
Singapore Journal of Tropical Geography, Vol. 29 (2008), Iss. 3 P.341
https://doi.org/10.1111/j.1467-9493.2008.00343.x
[Citations: 8]
Creating local institutional arrangements for sustainable wetland socio-ecological systems: lessons from the 'Striking a Balance' project in Malawi
Dixon, Alan
Carrie, Rachael
International Journal of Sustainable Development & World Ecology, Vol. 23 (2016), Iss. 1 P.40
https://doi.org/10.1080/13504509.2015.1107861
[Citations: 12]
Community-Based Entrepreneurship in Norway
Dana, Leo Paul
The International Journal of Entrepreneurship and Innovation, Vol. 9 (2008), Iss. 2 P.77
https://doi.org/10.5367/000000008784489471
[Citations: 17]
Integrated Community-Managed Development
Introduction
Slikkerveer, L. Jan
Baourakis, George
Saefullah, Kurniawan
2019
https://doi.org/10.1007/978-3-030-05423-6_1
[Citations: 0]
Environmentality
Notes
2005
https://doi.org/10.1215/9780822386421-010
[Citations: 0]
An Ethnographic Study of Entrepreneurship Among the Sámi People of Finland
Dana, Teresa E.
Remes, Liisa
Journal of Small Business & Entrepreneurship, Vol. 18 (2005), Iss. 2 P.189
https://doi.org/10.1080/08276331.2005.10593339
[Citations: 8]
Environmentality
Conclusion
2005
https://doi.org/10.1215/9780822386421-009
[Citations: 0]
Vexatious voice: The politics of downward accountability and subnational governance reform in Afghanistan
Blunt, Peter
Khamoosh, Saeed
Progress in Development Studies, Vol. 16 (2016), Iss. 1 P.81
https://doi.org/10.1177/1464993415608085
[Citations: 3]
Integrated Community-Managed Development
The Indigenous Knowledge Systems' Perspective on Sustainable Development
Slikkerveer, L. Jan
2019
https://doi.org/10.1007/978-3-030-05423-6_2
[Citations: 0]
Negotiating Difference: Discourses of Indigenous Knowledge and Development in Ghana
Yarrow, Thomas
PoLAR: Political and Legal Anthropology Review, Vol. 31 (2008), Iss. 2 P.224
https://doi.org/10.1111/j.1555-2934.2008.00023.x
[Citations: 13]
New agricultural frontiers in post-conflict Sierra Leone? Exploring institutional challenges for wetland management in the Eastern Province
Maconachie, Roy
The Journal of Modern African Studies, Vol. 46 (2008), Iss. 2 P.235
https://doi.org/10.1017/S0022278X08003212
[Citations: 15]
Environmentality
Making Environmental Subjects
2005
https://doi.org/10.1215/9780822386421-008
[Citations: 1]
A Comparison of Native Culture, Non-Native Culture and New Management Ideology
Redpath, Lindsay
Nielsen, Marianne O.
Canadian Journal of Administrative Sciences / Revue Canadienne des Sciences de l'Administration, Vol. 14 (2009), Iss. 3 P.327
https://doi.org/10.1111/j.1936-4490.1997.tb00139.x
[Citations: 36]
Indigenous Studies
Indigenous Knowledge Management Practices in Indigenous Organizations in South Africa and Tanzania
Lwoga, Edda Tandi
Ngulube, Patrick
Stilwell, Christine
2020
https://doi.org/10.4018/978-1-7998-0423-9.ch003
[Citations: 2]
The demise of a South African growth point, Butterworth in the Eastern Cape: a community development model as an alternative strategy for development
Musampa, Chris M
Development Southern Africa, Vol. 23 (2006), Iss. 1 P.85
https://doi.org/10.1080/03768350600556554
[Citations: 2]
Environmentality
Governmentalized Localities
2005
https://doi.org/10.1215/9780822386421-006
[Citations: 0]
Examining the Potential of Indigenous Institutions for Development: A Perspective from Borana, Ethiopia
Watson, Elizabeth E.
Development and Change, Vol. 34 (2003), Iss. 2 P.287
https://doi.org/10.1111/1467-7660.00306
[Citations: 54]
Introduction: Comparative Perspectives on the Indigenous Rights Movement in Africa and the Americas
Hodgson, Dorothy L.
American Anthropologist, Vol. 104 (2002), Iss. 4 P.1037
https://doi.org/10.1525/aa.2002.104.4.1037
[Citations: 107]
Ethnobiology
Ethics in Ethnobiology: History, International Law and Policy, and Contemporary Issues
Hardison, Preston
Bannister, Kelly
2011
https://doi.org/10.1002/9781118015872.ch3
[Citations: 12]
Morton's Fork: "Democracy" Versus Neopatrimonialism in Developing Countries
Blunt, Peter
Turner, Mark
Lindroth, Henrik
International Journal of Public Administration, Vol. 36 (2013), Iss. 1 P.45
https://doi.org/10.1080/01900692.2012.713293
[Citations: 9]
Environmentality
Forests of Statistics
2005
https://doi.org/10.1215/9780822386421-003
[Citations: 0]
Handbook of Research on Social, Cultural, and Educational Considerations of Indigenous Knowledge in Developing Countries
Indigenous Knowledge Management Practices in Indigenous Organizations in South Africa and Tanzania
Lwoga, Edda Tandi
Ngulube, Patrick
Stilwell, Christine
2017
https://doi.org/10.4018/978-1-5225-0838-0.ch010
[Citations: 2]
Environmentality
Bibliography
2005
https://doi.org/10.1215/9780822386421-011
[Citations: 0]
Environmentality
Inside the Regulatory Community
2005
https://doi.org/10.1215/9780822386421-007
[Citations: 0]
The impact of institutional racism upon indigenous economic and human development in Australia
Fuller, Don
Howard, Myles
Cummings, Eileen
Development in Practice, Vol. 14 (2004), Iss. 4 P.559
https://doi.org/10.1080/09614520410001686142
[Citations: 4]
Accomplishment Index Analysis of the Sociophysical Activities of Community-Based Organizations in a Postconflict Area of Africa
Abegunde, Albert Ayorinde
SAGE Open, Vol. 7 (2017), Iss. 2 P.215824401770779
https://doi.org/10.1177/2158244017707794
[Citations: 0]