Book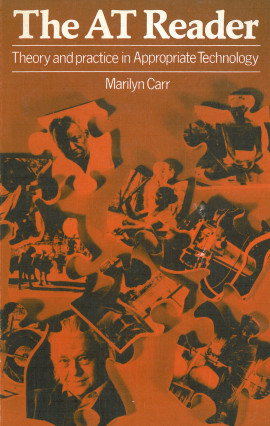 The AT Reader
The theory and practice of appropriate technology
Published: 1985
Pages: 488

eBook: 9781780441702
Paperback: 9780946688104
Bringing together a wealth of material, The AT Reader explains the idea, history, development, and practical application of appropriate technologies through a wide range of contexts.
ACKNOWLEDGEMENTS

INTRODUCTION BY FRANCES STEWART

CHAPTER I APPROPRIATE TECHNOLOGY: HISTORY CONCEPTS AND EVOLUTION

CHAPTER II TECHNOLOGY CHOICE: THEORY AND PRACTICE

CHAPTER 111 TECHNOLOGY FOR DEVELOPMENT: AGRICULTURE, FOOD PROCESSING, LIVESTOCK

CHAPTER IV TECHNOLOGY FOR DEVELOPMENT: HEALTH, WATER AND SANITATION

CHAPTER V TECHNOLOGY FOR DEVELOPMENT: BIOMASS AND RENEWABLE ENERGY

CHAPTER VI TECHNOLOGY FOR DEVELOPMENT: HOUSING, CONSTRUCTION AND TRANSPORT

CHAPTER VII TECHNOLOGY FOR DEVELOPMENT: MANUFACTURING, MINING AND RECYCLING

CHAPTER VIII GENERATION AND TRANSFER OF TECHNOLOGY

CHAPTER IX THE DISSEMINATION OF TECHNOLOGY

CHAPTER X EDUCATION, TRAINING AND COMMUNICATION
Marilyn Carr
Marilyn Carr is Chief of the Economic Empowerment Section of the United Nations Development Fund for Women. She is a development economist with over 20 years experience in Asia and Africa and specializes in the fields of small enterprise development and technology choice and diffusion.