Book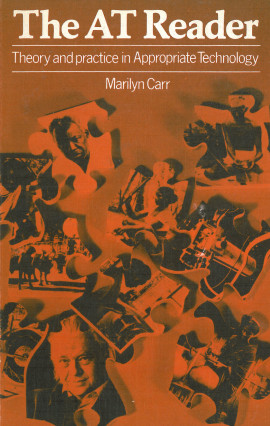 The AT Reader
The theory and practice of appropriate technology
Published: 1985
Pages: 488

eBook: 9781780441702
Paperback: 9780946688104
Bringing together a wealth of material, The AT Reader explains the idea, history, development, and practical application of appropriate technologies through a wide range of contexts.
ACKNOWLEDGEMENTS

INTRODUCTION BY FRANCES STEWART

CHAPTER I APPROPRIATE TECHNOLOGY: HISTORY CONCEPTS AND EVOLUTION

CHAPTER II TECHNOLOGY CHOICE: THEORY AND PRACTICE

CHAPTER 111 TECHNOLOGY FOR DEVELOPMENT: AGRICULTURE, FOOD PROCESSING, LIVESTOCK

CHAPTER IV TECHNOLOGY FOR DEVELOPMENT: HEALTH, WATER AND SANITATION

CHAPTER V TECHNOLOGY FOR DEVELOPMENT: BIOMASS AND RENEWABLE ENERGY

CHAPTER VI TECHNOLOGY FOR DEVELOPMENT: HOUSING, CONSTRUCTION AND TRANSPORT

CHAPTER VII TECHNOLOGY FOR DEVELOPMENT: MANUFACTURING, MINING AND RECYCLING

CHAPTER VIII GENERATION AND TRANSFER OF TECHNOLOGY

CHAPTER IX THE DISSEMINATION OF TECHNOLOGY

CHAPTER X EDUCATION, TRAINING AND COMMUNICATION
Marilyn Carr
Marilyn Carr is Chief of the Economic Empowerment Section of the United Nations Development Fund for Women. She is a development economist with over 20 years experience in Asia and Africa and specializes in the fields of small enterprise development and technology choice and diffusion.
Evolutionary systems design: A soft technology for hard challenges
Laszlo, Alexander
World Futures, Vol. 54 (1999), Iss. 4 P.313
https://doi.org/10.1080/02604027.1999.9972762
[Citations: 3]
Grassroots innovation movements: challenges and contributions
Smith, Adrian
Fressoli, Mariano
Thomas, Hernán
Journal of Cleaner Production, Vol. 63 (2014), Iss. P.114
https://doi.org/10.1016/j.jclepro.2012.12.025
[Citations: 229]
Developing professional competencies for humanitarian engineers
Reed, Brian
Fereday, Emily
Proceedings of the Institution of Civil Engineers - Civil Engineering, Vol. 169 (2016), Iss. 5 P.49
https://doi.org/10.1680/jcien.15.00046
[Citations: 4]
Facts behind the myth of conservative rurality: major determinants of rural farmers' innovation adoption decisions for sustainable agriculture
Adjei, Prince Osei-Wusu
Kosoe, Enoch Akwasi
Forkuor, David
GeoJournal, Vol. 82 (2017), Iss. 5 P.1051
https://doi.org/10.1007/s10708-016-9728-9
[Citations: 6]
Inclusive innovation: an architecture for policy development
Chataway, Joanna
Hanlin, Rebecca
Kaplinsky, Raphael
Innovation and Development, Vol. 4 (2014), Iss. 1 P.33
https://doi.org/10.1080/2157930X.2013.876800
[Citations: 111]
Consumption and Development
The Promotion of Appropriate Products in Developing Countries
James, Jeffrey
1993
https://doi.org/10.1007/978-1-349-22658-0_8
[Citations: 0]
Appropriate Technology for Humans and Organizations
Clegg, Chris
Journal of Information Technology, Vol. 3 (1988), Iss. 3 P.133
https://doi.org/10.1177/026839628800300302
[Citations: 2]
Small-scale irrigation in sub-Saharan Africa
Adams, W.M.
Carter, R.C.
Progress in Physical Geography: Earth and Environment, Vol. 11 (1987), Iss. 1 P.1
https://doi.org/10.1177/030913338701100101
[Citations: 24]
The Internet and other ICTs as tools and catalysts for sustainable development: innovation for 21st century
Zelenika, Ivana
Pearce, Joshua M.
Information Development, Vol. 29 (2013), Iss. 3 P.217
https://doi.org/10.1177/0266666912465742
[Citations: 18]
Consumption, Globalization and Development
Can Appropriate Products Capture Mass Markets in a Globalizing World? a Case Study from India
James, Jeffrey
2000
https://doi.org/10.1057/9780230510951_6
[Citations: 0]
Technology Transfer for Women Entrepreneurs: Issues for Consideration
Everts, Saskia I.
Gender, Technology and Development, Vol. 2 (1998), Iss. 1 P.39
https://doi.org/10.1080/09718524.1998.11909876
[Citations: 0]
Tilling the Soil in Tanzania: What do Emerging Economies have to Offer?
Agyei-Holmes, Andrew
The European Journal of Development Research, Vol. 28 (2016), Iss. 3 P.379
https://doi.org/10.1057/ejdr.2016.14
[Citations: 6]
Innovation through collaboration: scaling up solutions for sustainable development
Zelenika, I.
Pearce, J. M.
Environment, Development and Sustainability, Vol. 16 (2014), Iss. 6 P.1299
https://doi.org/10.1007/s10668-014-9528-7
[Citations: 12]
Rural mechanisation: a review of processes, policies, practice and literature
Gass, G. M.
Biggs, Stephen D.
Project Appraisal, Vol. 8 (1993), Iss. 3 P.157
https://doi.org/10.1080/02688867.1993.9726905
[Citations: 7]
Technology transfer and agricultural mechanization in Tanzania: institutional adjustments to accommodate emerging economy innovations
Agyei-Holmes, Andrew
Innovation and Development, Vol. 6 (2016), Iss. 2 P.195
https://doi.org/10.1080/2157930X.2016.1196545
[Citations: 4]