Book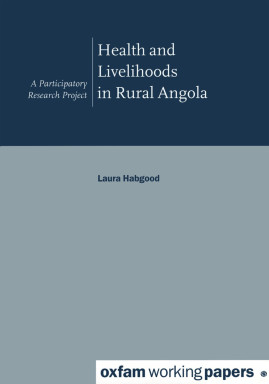 Health and Livelihoods in Rural Angola
Published: 1998
Pages: 70

eBook: 9780855987657
Paperback: 9780855984113
An account of an Oxfam project with a dual aim: to find out more about how rural communities use health services and to involve communities in the research. The author evaluates the limitations as well as the advantages of participatory research methods.
Abbreviations/Glossary

Preface

Introduction

Map of Ganda Municipality

Part one: Methodology

Background

Study design and organisation

Study area, sample, and sources

Methods and tools

Analysis and interpretation

External and internal factors influencing the methodology

Influences on findings

Part Two: Findings and dicussion

History of Ganda

Social structures

Health-service providers

Sociocultural factors

Health beliefs

Health-related behaviours

Why do people make the choices they do?

Health needs

Part Three: conclusions and recommendations

Health-related behaviour and the use of health services within the sociocultural context of Ganda

Preventive health priorities of the communities and their most vulnerable members

The development of appropriate methodological tools and health-status indicators

Recommendations to Oxfam concerning programme direction and initiatives in Benguela Province

General recommendations for working in communities

Appendices

Population survey

Participatory methods and tools used

Example of a drawing used as a dicussion starter by research assistants

Causes of malnutrition-interview guide and diagram

Map of Ganda district

Health service providers in Ganda

Research-project schedule based on intermediate objectives

Notes
Laura Habgood
Laura Habgood is a medical doctor with several years experience of working in community-based health care in Southern Africa, including two years working for Oxfam GB in Angola.
Saberes e práticas de cura nas igrejas neotradicionais em Luanda: carismas, participação e trajetórias das mulheres
Viegas, Fátima
Varanda, Jorge
(2015) P.189
https://doi.org/10.4000/etnografica.3957
[Citations: 4]
The limit of ethnocentric perceptions in civil war peace negotiations
Lee, Sung Yong
Conflict Resolution Quarterly, Vol. 28 (2011), Iss. 3 P.349
https://doi.org/10.1002/crq.20027
[Citations: 1]
Legitimizing Local Perspectives in Conservation through Community-Based Research: A Photovoice Study in Samburu, Kenya
Beh, Adam
Bruyere, Brett L.
Lolosoli, Sam
Society & Natural Resources, Vol. 26 (2013), Iss. 12 P.1390
https://doi.org/10.1080/08941920.2013.805858
[Citations: 19]
Balancing Imbalances: Facilitating Community Perspectives in Times of Adversity
Fustukian, Suzanne
Zwi, Anthony B.
NAPA Bulletin, Vol. 21 (2008), Iss. 1 P.17
https://doi.org/10.1525/napa.2001.21.1.17
[Citations: 3]
Multiple methodologies: using community-based participatory research and decolonizing methodologies in Kenya
Elder, Brent C.
Odoyo, Kenneth O.
International Journal of Qualitative Studies in Education, Vol. 31 (2018), Iss. 4 P.293
https://doi.org/10.1080/09518398.2017.1422290
[Citations: 8]