Book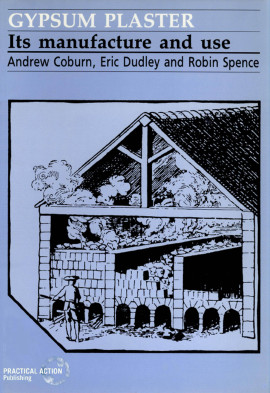 An outline of the manufacturing techniques available for this well-proven but underutilized binding material, with a guide to uses, properties and limitations.
Why use gypsum plaster? l

Gypsum or gypsum plaster? 2

Gypsum plaster — a well proven technology 2

The use of gypsum plaster 3

Manufacture 5

1. Raw gypsum 5

A) Types of raw gypsum

B) Sources

2. Gypsum plaster 7

A) The chemistry of plaster

B) Types of plaster

3. Tests and standards 11

A) Recognizing gypsum

B) Testing gypsum plaster

4. Production technologies 18

A) Extraction

B) Preparing gypsum

C) Calcining (heating)

5. Economics of production 30

A) Production inputs

B) Cost comparison with Portland cement

C) Choice of technology

Use in building 35

1. Wet' uses 35

A) Plastering

B) Plaster mortars

C) Plaster concrete

D) Decoration

2. Prefabricated elements 38

A) Plasterboard

B) Reinforced gypsum plaster

C) Earth blocks stabilized with gypsum plaster

D) Plaster blocks

Glossary 43

Selected bibliography 45

Contact addresses 47

Case studies

Case study 1: Field testing retarders 15

Case study 2: U.K. — manual crusher 20

Case study 3: Cape Verde Islands — flat-plate kiln 25

Case study 4: Mauritania — open-pan kiln 26

Case study 5: Iran — structural plaster 37

Case study 6: Ecuador — plaster ceiling panels 39

Case study 7: Turkey — stabilized block 40

Case study 8: Cape Verde Islands — wall block 41
Andrew Coburn He is Vice President of catastrophe research and Director of terrorism research at Risk Management Solutions. Coburn also worked extensively with Robin Spence, currently President of the European Association for Earthquake Engineering, on analysing earthquake risks and the effects of seismic activity on the built environment.
Robin Spence Robin Spence is currently President of the European Association for Earthquake Engineering.