Book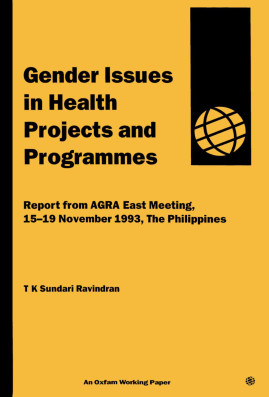 Gender Issues In Health Projects and Programmes
Published: 1995
Pages: 28

eBook: 9780855987510
Paperback: 9780855982959
Oxfam carries out original research on various aspects of its overseas programme, as part of a constant monitoring process, and in an effort to gain greater understanding of development programmes and practice. Although primarily a tool for institutional learning, some of the resulting reports are of wider interest. As part of its commitment to sharing experience of good practice, Oxfam publishes those reports which describe innovative research projects, evaluate particularly interesting projects or programmes, or are the proceedings of workshops or seminars. This paper sets out some of the major gender issues arising from considerations of health care and health care provision. It draws on the experience of participants in a workshop in the Philippines. The broad objectives of the workshop were to increase understanding of the concepts and issues arising in connection with gender and health, and to develop tools for analysing these issues in any given context, in order to plan and implement appropriate interventions.
* Preface

1. Introduction

1.1: Women's health in context

1.2: Women's life-cycle and their health

2. Identifying women's health needs: an analytical framework

2.1: Introduction

2.2: Household level factors

2.3: Community level factors

2.4: National and international factors

2.5: Sexuality and reproductive health: making the connections

3. Reproductive health care

3.1: Introduction

3.2: Reproductive tract infections (RTIs)

3.3: Maternal mortality

3.4: Family planning

3.5: Abortion

3.6: The population debate

3.7: International population conferences

4. Gender issues in primary health care

4.1: The primary health care approach

4.2: Gender issues in access to health services

4.3: Intergrating gender issues into health care

4.4: working at different levels

5. Addressing gender and health issues in NGO programmes

5.1: Working at the grassroots

5.2: Issues for funding agencies working with partners

* Appendix

Questions for assessing the gender sensitivity of health projects.
Sundari Ravindran
Dr. Sundari Ravindran, Honorary Professor Achutha Menon Centre for Health Science Studies & Founding member of Rural Women's Social Education Centre, India