Book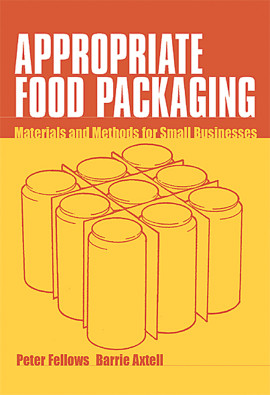 Appropriate Food Packaging
Materials and methods for small businesses
Published: 1993
Pages: 144

eBook: 9781780442617
Paperback: 9781853395628
Food manufacturers operating on a small to medium scale face direct competition from the large-scale food sector whose economies of scale, better presentation and powerful marketing can endanger the future of smaller businesses. High quality packaging not only helps to keep products in good condition it lies at the very heart of food presentation and customer appeal. It is thus an area of vital importance for any small to medium scale food manufacturers competing in today's marketplace. Appropriate Food Packaging is a compendium of packaging materials and cost-effective methods that can be applied at a small to medium scale in developing countries. This book helps manufacturers to face the challenges that improving their packaging systems present, including assessing whether increased sales will justify the investment costs, and the very real difficulties faced in many developing countries of sourcing suitable packaging materials. The economic, operational and human resource implications of changes in packaging methods are considered, as too are the potentially negative environmental effects of modern food packaging.
Food and packaging

Types of food and prevention of deterioration

Packaging materials

Filling and labelling

Production, re-use and re-cycling of packaging

Implications of introducing packaging

Benefits and costs of food packaging

Glossary
Peter Fellows
Dr Peter Fellows is a consultant food technologist specializing in small-scale food processing. Previously he taught food technology at Oxford Brookes University, worked for Practical Action, and has held the UNESCO Chair in Post-Harvest Technology at Makerere University, Uganda. He has practical experience of assisting small-scale food processors in 20 countries and has published 33 books and 40 articles on food processing.
Barrie Axtell
Barrie Axtell worked in the UK food industry for over 10 years, in 1981, he joined ITDG to start its agroprocessing programme and then became a private consultant providing technical consultancy inputs to agencies such as FAO, ILO, UNIFEM and ITDG.