Book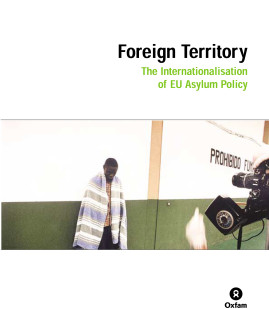 European Union asylum policy is shifting overseas. The politicisation of asylum-related issues and the desire to manage migration are the forces behind a wave of new internationalised initiatives which could have a serious impact on the lives of refugees.
Executive summary: key findings and recommendations

Glossary of technical terms and acronyms

Introduction

Refugee realities: the view from the ground

The EU and asylum: growing influence, global reach

On EU Territory: decisions about safety elsewhere

On the edges of the EU: 'managing migration' from Europe's neighbours

Regions of origin ( I ): new approaches to orderly entry

Regions of origin ( II ): enhancing protection or exporting asylum?

Countries of origin: the root causes of refugee flows

Summary of recommendations

Annex 1: Profile of Sri Lanka

Annex 2: Profile of The United Republic of Tanzania

Annex 3: Profile of The Democratic Repubilc of Congo (DRC)

Notes

Index
David McKeever
David McKeever, is a consultant, at the UNHCR Department of International Protection (based in Cotonou, Bénin)
Jessica Scultz
Jessica Scultz is a lawyer specialising in international human rights and refugee law. Thematically her work focuses on humanitarian protection, social and economic rights, and transitional justice. She has served as a researcher and protection advisor in East and West Africa, the DRC and Sri Lanka. She has also worked in the US, China and Taiwan.
Sophia Swithern
Sophia Swithern has worked as a humanitarian and conflict policy adviser since 2007. She works primarily on African issues, with a current focus on DRC and South Sudan, covering areas such as peacekeeping and protection of civilians, fragile states, humanitarian assistance and stabilisation. Prior to joining Oxfam, she worked for UNHCR and for the Legal Services Commission.
Development and Migration or Migration and Development: What Comes First?
Castles, Stephen
Asian and Pacific Migration Journal, Vol. 18 (2009), Iss. 4 P.441
https://doi.org/10.1177/011719680901800401
[Citations: 19]
Unity Amid Barbed Wire: Asylum Restrictions, European Integration and the Migration Crisis
Thor Dahlman, Carl
Journal of Peacebuilding & Development, Vol. 11 (2016), Iss. 3 P.8
https://doi.org/10.1080/15423166.2016.1222594
[Citations: 2]
Transit migration: A blurred and politicised concept
Düvell, Franck
Population, Space and Place, Vol. 18 (2012), Iss. 4 P.415
https://doi.org/10.1002/psp.631
[Citations: 108]