Book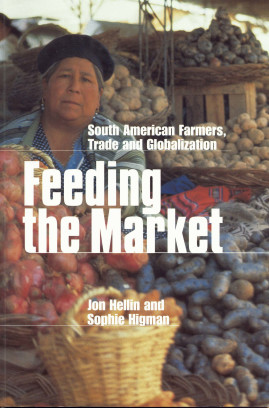 Feeding the Market
South American farmers, trade and globalization
Published: 2003
Pages: 256

eBook: 9781780441481
Paperback: 9781853395604
"This is an accessible book which distils the ultimate question : how to reconcile the contradictory demands of the globalized market?" From the foreword by Jon Snow.
The debate about the pros and cons of globalization has become increasingly polarized and yet the voices of the rural poor are seldom heard. This book rises above the fray to examine what is happening at the interface between globalization and producers in the South. Based on extensive fieldwork from the sweeping grasslands of Patagonia to the coffee farms of Ecuador, the authors illustrate the practical obstacles that farmers face in accessing markets, above all, the difficulties of meeting market demands for large quantities of high quality produce in continuous supply. By focusing on eight different products: bananas, coffee, potatoes, coca, wine, sheep, forestry and the Andean grain quinoa. The impact of global market developments upon smallholder farmers is richly described. The authors draw lessons from both the success stories and farmers' frustrated attempts to benefit from market opportunities. They point the way to the changes in policies and markets that are needed, and to practical interventions where development professionals can have a real impact. This book compliments existing texts on the macro level of globalization to provide an accessible southern perspective on the debate.
Prelims (Contents, Foreword by John Snow, Preface, Acknowledgements, Acronyms, Map of South America)

1. Introduction

2. Green gold: Ecuador's banana producers

3. Niche markets: a solution to the coffee crisis?

4. Potatoes and Andean tubers: losing diversity?

5. Quinua and food security

6. Coca eradication and alternative development

7. Wine and Pisco: success or sour grapes?

8. Sheep in Patagonia: blown by the winds of change

9. Forestry and farmers' livelihoods: making trees pay

10. Conclusions: the need for trade and aid

Back Matter (Notes, Select Bibliography and Reading List, Index)
Jon Hellin
Jon Hellin was recently an International Team Leader of ITDG's programme on markets and livelihoods, and an Honorary Research Associate at Oxford Brookes University.
Sophie Higman
Sophie Higman works for ProForest Ltd and specializes in sustainable forest management and certification. She has worked as a forester in Honduras and Guyana and travelled extensively throughout Latin America.
Promoting Environmental Education for Sustainable Development: The Value of Links between Higher Education and Non-Governmental Organizations (NGOs)
Haigh, Martin J.
Journal of Geography in Higher Education, Vol. 30 (2006), Iss. 2 P.327
https://doi.org/10.1080/03098260600717422
[Citations: 33]
Small-scale farmer participation in new agri-food supply chains: Case of the supermarket supply chain for fruit and vegetables in Honduras
Blandon, Jose
Henson, Spencer
Cranfield, John
Journal of International Development, Vol. 21 (2009), Iss. 7 P.971
https://doi.org/10.1002/jid.1490
[Citations: 63]
Rural Development and Food Security in the 21st Century: A Review and Proposal
Forrest, Joshua B.
Journal of Developing Societies, Vol. 33 (2017), Iss. 4 P.448
https://doi.org/10.1177/0169796X17735239
[Citations: 4]
Towards a New Articulation of Alternative Development: Lessons from Coca Supply Reduction in Bolivia
Lupu, Noam
Development Policy Review, Vol. 22 (2004), Iss. 4 P.405
https://doi.org/10.1111/j.1467-7679.2004.00257.x
[Citations: 23]
La Gouvernance Rurale au Mexique en Réponse À La Vulnérabilité Paysanne Extrême
Gravel, Nathalie
Canadian Journal of Latin American and Caribbean Studies, Vol. 34 (2009), Iss. 68 P.111
https://doi.org/10.1080/08263663.2009.10816977
[Citations: 0]
Ethnobotany
The Americas
Kellogg, J.
Schmidt, B. M.
Graf, B. L.
Jofré-Jimenez, C.
Aguayo-Cumplido, H.
Calfío, C.
Rojo, L. E.
Cubillos-Roble, K.
Troncoso-Fonseca, A.
Delatorre-Herrera, J.
2017
https://doi.org/10.1002/9781118961933.ch5
[Citations: 0]
Genetic structure of quinoa (Chenopodium quinoa Willd.) from the Bolivian altiplano as revealed by RAPD markers
del Castillo, Carmen
Winkel, Thierry
Mahy, Grégory
Bizoux, Jean-Philippe
Genetic Resources and Crop Evolution, Vol. 54 (2007), Iss. 4 P.897
https://doi.org/10.1007/s10722-006-9151-z
[Citations: 33]
Andean Foodways
Commercializing the "Lost Crop of the Inca": Quinoa and the Politics of Agrobiodiversity in "Traditional" Crop Commercialization
McDonell, Emma
2021
https://doi.org/10.1007/978-3-030-51629-1_15
[Citations: 0]
Enabling food sovereignty and a prosperous future for peasants by understanding the factors that marginalise peasants and lead to poverty and hunger
Naranjo, Sofia
Agriculture and Human Values, Vol. 29 (2012), Iss. 2 P.231
https://doi.org/10.1007/s10460-011-9345-7
[Citations: 12]
Building opportunities for small-farm agroforestry to supply domestic wood markets in developing countries
Scherr, S.J.
Agroforestry Systems, Vol. 61-62 (2004), Iss. 1-3 P.357
https://doi.org/10.1023/B:AGFO.0000029010.97567.2b
[Citations: 13]
Quinoa: Improvement and Sustainable Production
Agroecological and Agronomic Cultural Practices of Quinoa in South America
Garcia, Magali
Condori, Bruno
Castillo, Carmen Del
2015
https://doi.org/10.1002/9781118628041.ch3
[Citations: 16]
Food and Globalization
Phillips, Lynne
Annual Review of Anthropology, Vol. 35 (2006), Iss. 1 P.37
https://doi.org/10.1146/annurev.anthro.35.081705.123214
[Citations: 130]
New Vistas in Agroforestry
Building opportunities for small-farm agroforestry to supply domestic wood markets in developing countries
Scherr, S. J.
2004
https://doi.org/10.1007/978-94-017-2424-1_25
[Citations: 6]