Book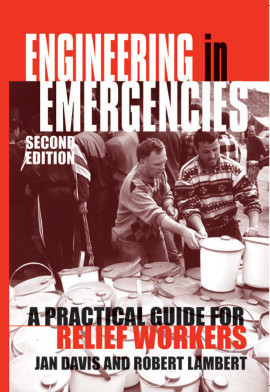 Engineering in Emergencies
A practical guide for relief workers
Published: 2002
Pages: 738

eBook: 9781780441139
Paperback: 9781853395215
Engineering in Emergencies is a hugely successful practical handbook for all relief workers involved in giving humanitarian assistance. It provides the information needed to implement an effective engineering response in the aftermath of an emergency. The second edition of Engineering in Emergencies maintains the practical content of the first edition but has been revised and updated to reflect developments in humanitarian relief in recent years. The combination of 'hard' topics, such as water and sanitation, and 'soft' topics, such as managerial skills and personal effectiveness, has been retained from the original edition and the book expanded to include two new chapters on security and telecommunications. The new second edition will be available both as a book and as a handy CD-ROM, especially designed to be light and easily portable for relief workers in the field. Engineering in Emergencies is developed in collaboration with the agency RedR - Engineers for Disaster Relief, based in Westminster.
Prelims (Contents, Contents in Detail, Acknowledgements, Introduction)

1. Emergencies

2. The humanitarian relief system

3. Personal effectiveness

4. Personal security

5. Assessment and planning

6. Management

7. Logistics

8. Telecommunications

9. Environmental health

10. Environmental sanitation

11. Emergency water supply

12. Water source development

13. Water storage, treatment and distribution

14. Pumps

15. Mechanical plant

16. Electrical plant

17. Vehicles

18. Roads, crossings and airstrips

19. Shelter and built infrastructure

20. Temporary settlements

Back Matter (Appendices 1 - 25, Bibliography, Index)
[It is] very reassuring to have a reference book in the field which covers all aspects an engineer is expected to come across.
Water and sanitation engineer on assignment

Its use is highly recommended for all relief fieldworkers who have to deal with emergencies.
Disasters

This amazingly comprehensive book admirably covers a vast range of aspects the relief worker will deal with ... an indispensible reference book.
New Civil Engineer

It contains a mass of fascinating information to help field engineers and others to undertake their tasks swiftly, methodically and effectively.
Water and Environmental Management

Praise for the first edition: 'this is an outstanding book and a major landmark in its field.'
John G. Evans, CIWEM.
Jan Davis Jan Davis is a chartered engineer with experience in both emergency relief and long-term development. He has worked for Oxfam as an emergency water engineer and is currently a Senior Training Officer responsible for delivering RedR's training programme.
Robert Lambert Robert Lambert is Director of RedR. An engineer with over 15 years' experience in Africa and elsewhere, he has extensive experience in selecting, preparing, training and debriefing a wide range of professionals for humanitarian relief work.
Social Work Interventions in Refugee Camps
Drumm, René D.
Pittman, Sharon W.
Perry, Shelly
Journal of Social Service Research, Vol. 30 (2003), Iss. 2 P.67
https://doi.org/10.1300/J079v30n02_05
[Citations: 13]
Delivering Drinking Water by Truck in Humanitarian Contexts: Results from Mixed-Methods Evaluations in the Democratic Republic of the Congo and Bangladesh
Sikder, Mustafa
Mirindi, Patrick
String, Gabrielle
Lantagne, Daniele
Environmental Science & Technology, Vol. 54 (2020), Iss. 8 P.5041
https://doi.org/10.1021/acs.est.9b07375
[Citations: 8]
ADDRESSING SUSTAINABILITY AND THE ENVIRONMENT DURING EMERGENCY DROUGHT RELIEF IN MOYALE, NORTH KENYA
Trigg, M.
Gibson, J.
Rowney, M.
Water and Environment Journal, Vol. 18 (2004), Iss. 4 P.217
https://doi.org/10.1111/j.1747-6593.2004.tb00536.x
[Citations: 0]
Unlock the Volume: Towards a Politics of Capacity
Peters, Kimberley
Turner, Jennifer
Antipode, Vol. 50 (2018), Iss. 4 P.1037
https://doi.org/10.1111/anti.12397
[Citations: 9]
Rapid assessment and priority setting in emergencies
Harvey, P. A.
Reed, R. A.
Proceedings of the Institution of Civil Engineers - Municipal Engineer, Vol. 151 (2002), Iss. 4 P.249
https://doi.org/10.1680/muen.2002.151.4.249
[Citations: 1]
Global Water, Sanitation, and Hygiene Approaches: Anthropological Contributions and Future Directions for Engineering
Workman, Cassandra L.
Cairns, Maryann R.
de los Reyes, Francis L.
Verbyla, Matthew E.
Environmental Engineering Science, Vol. 38 (2021), Iss. 5 P.402
https://doi.org/10.1089/ees.2020.0321
[Citations: 5]
What are the determinants of childhood infections in India's peri-urban slums? A case study of eight cities
Boo, Yebeen Ysabelle
Rai, Kritika
Cupp, Meghan A.
Lakhanpaul, Monica
Factor-Litvak, Pam
Parikh, Priti
Panda, Rajmohan
Manikam, Logan
Sultana, Marufa
PLOS ONE, Vol. 16 (2021), Iss. 10 P.e0257797
https://doi.org/10.1371/journal.pone.0257797
[Citations: 0]
Emergency and urgent public project management
Wearne, S. H.
Proceedings of the Institution of Civil Engineers - Municipal Engineer, Vol. 139 (2000), Iss. 1 P.27
https://doi.org/10.1680/muen.2000.139.1.27
[Citations: 1]
Groundwater Contamination from Rural Pit Latrines: Examples from Siberia and Kosova
Banks, D.
Karnachuk, O. V.
Parnachev, V. P.
Holden, W.
Frengstad, B.
Water and Environment Journal, Vol. 16 (2002), Iss. 2 P.147
https://doi.org/10.1111/j.1747-6593.2002.tb00386.x
[Citations: 32]