Book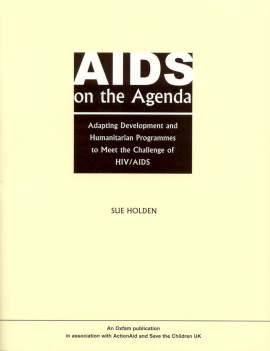 Aids on the Agenda
Published: 2003
Pages: 341

eBook:
Paperback: 9780855984694
This book is written for policy makers, managers and programme staff in development and humanitarian agencies, to promote debate about the challenges that confront them in a world which has been changed for ever by the pandemic of AIDS. The book considers the possible responses to the problem and is based on case studies drawn from the experiences of ActionAid, Oxfam International and Save the Children UK.
Preface

Part 1: Mainstreaming AIDs in dvelopment and humanitarian programmes: background and rationale

Part 2: Experiences of Mainstreaming AIDs

Part 3: Ideas for mainstreaming AIDs

Resources

Notes

Bibliography Index

Readers feedback
Mainstreaming HIV/AIDS in development sectors: Have we learnt the lessons from gender mainstreaming?
Elsey, H.
Tolhurst, R.
Theobald, S.
AIDS Care, Vol. 17 (2005), Iss. 8 P.988
https://doi.org/10.1080/09540120500102250
[Citations: 13]
Reflective learning in action research
Walakira, Eddy Joshua
Action Research, Vol. 8 (2010), Iss. 1 P.53
https://doi.org/10.1177/1476750309335210
[Citations: 4]
Should HIV/AIDS Be Securitized? The Ethical Dilemmas of Linking HIV/AIDS and Security
Elbe, Stefan
International Studies Quarterly, Vol. 50 (2006), Iss. 1 P.119
https://doi.org/10.1111/j.1468-2478.2006.00395.x
[Citations: 152]
Strategic Planning in an International Nongovernmental Development Organization
Harris, Matthew J.
Administration & Society, Vol. 43 (2011), Iss. 2 P.216
https://doi.org/10.1177/0095399711400052
[Citations: 11]
Vulnerabilities, Impacts, and Responses to HIV/AIDS in Sub-Saharan Africa
Youth Sexuality and HIV/AIDS: Issues and Contentions
Amde, Woldekidan
Tadele, Getnet
2013
https://doi.org/10.1057/9781137009951_4
[Citations: 1]