Book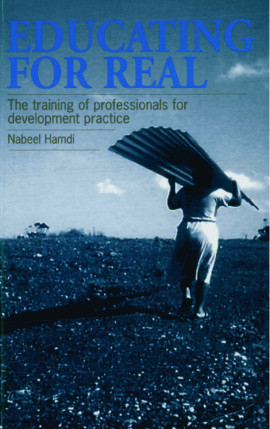 Educating for Real
The training of professionals for development practice
Published: 1996
Pages: 224

eBook: 9781780444833
Paperback: 9781853393334
Emerging trends in development practice place new demands on planning, engineering and building design. Changes in global political and economic systems, rapid demographic changes, protracted ethnic conflict, political and economic reforms all compound already strained national development agendas. Added to these complex issues are the current commitments to the environment, gender, appropriate technology and human well-being. How should education respond? Are today's approaches to research and teaching appropriate to the realities in the field? How best can students be equipped, technically, methodologically, and intellectually? Why study in the 'developed' countries at all? This interdisciplinary selection of 12 essays explores topics central to the education of development professionals; in particular planners, urban designers, engineers, and architects.
List of figures

Foreword

Contributors

List of acronyms

Preface

1 Inventing a new orthodoxy in education for

development practitioners: an introduction

NABEEL HAMDI

2 The getting of wisdom: educating the reflective 16

practitioner

MICHAEL EDWARDS

3 Thinking practice: urban theory and practical method 27

EDWARD ROBBINS ...

4 Discourse and the undiscussed: developing a little 36

reflective theory for practice

RICHARD HAYWARD

5 Educating urban planners 45

CAROLE RAKODI

6 What kind of planning? What kind of planners? 57

Rethinking planning education for the developing

world

ROGER ZETTER

7 Being a partner: educating for planning practice 77

JON ROWLAND

8 Development planning students learning in the field: 87

educating for real in post-apartheid South Africa

CATHERINE LABURN-PEART

9 Education for sale: what do planning students from 101

developing countries need, and is education today

delivering the goods?

KYLIE FOX

Educating urban designers: the value of training in 111

the UK

AMR EL-SHERIF

The engineer in development projects: a new role 124

JELLE VAN GIJN

Educating engineers in water and sanitation 136

PETER KOLSKY and ANDREW COTTON

Education in municipal and informal systems of solid 149

waste management

MANSOOR ALI, ADRIAN COAD and ANDREW COTTON

Educating through building: architects, appropriate 163

technology and building production

MAURICE MITCHELL

Educating field workers 183

ERIC DUDLEY

Practical wisdom and the education of today's relief 195

worker

HUGO SLIM
Nabeel Hamdi
NABEEL HAMDI, architect and teacher. Specialist in housing, shelter and settlement, slum upgrading and in participatory planning and design. Director of the Centre for Development and Emergency Planning (CENDEP) at Oxford Brookes University. Research Affiliate, MIT Cambridge, USA.
Practical wisdom and ethical awareness through student experiences of development
Kassam, Karim-Aly
Development in Practice, Vol. 20 (2010), Iss. 2 P.205
https://doi.org/10.1080/09614520903564207
[Citations: 9]
Diversity training for engineers: making 'gender' relevant
Reed, Brian
Coates, Sue
Proceedings of the Institution of Civil Engineers - Municipal Engineer, Vol. 165 (2012), Iss. 3 P.127
https://doi.org/10.1680/muen.11.00020
[Citations: 2]