Book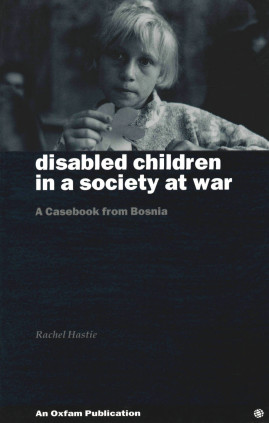 Disabled Children in a Society at War
A casebook from Bosnia
Published: 1997
Pages: 144

eBook: 9780855987060
Paperback: 9780855983734
This casebook analyses the lessons learned from a radical and ambitious project initiated by Oxfam at the height of the war in Bosnia. Disabled children in former Yugoslavia were traditionally cared for in centralised institutions run by State-paid 'defectologists'. When Oxfam assumed responsibility for one such centre in Tuzla, its emphasis evolved from the provision of clinical services to the integration of the children in the local community - an alternative approach now regarded in the area as a model for other programmes. This book looks at the themes of development in conflict, disability in conflict and the social model of disability in a post-communist society in detail.
* Introduction

1. Setting the scene

2. Koraci Nade: Steps of hope

3. Peace and reconstruction

4. Tackling institutional prejudice

5. Promoting an alternative approach to disability in Bosnia

6. Disability and conflict

7. Development work in a context of conflict

8. In conclusion: some lessons for development agencies

* Further Reading
Rachel Hastie
Rachel has worked for Oxfam GB for 16 years in field and headquarter posts implementing and supporting humanitarian programmes. Since 2006 she has been the Global Protection Adviser leading Oxfam's programme strategy for protection work.
Moral imperatives, professional interventions and resilience, and educational action in chaotic situations: the souls of children amidst the horror of war
Hill*, Catherine M.
International Journal of Children's Spirituality, Vol. 10 (2005), Iss. 2 P.155
https://doi.org/10.1080/13644360500154193
[Citations: 1]
Prospects for inclusive education in European countries emerging from economic and other trauma: Serbia and Albania
Radoman, Vesna
Nano, Virxhil
Closs, Alison
European Journal of Special Needs Education, Vol. 21 (2006), Iss. 2 P.151
https://doi.org/10.1080/08856250600600794
[Citations: 8]
Inclusion, Participation and Democracy: What is the Purpose?
An Outsider's Perspective on the Reality of Educational Inclusion Within Former Yugoslavia
Closs, Alison
2003
https://doi.org/10.1007/0-306-48078-6_9
[Citations: 3]