Book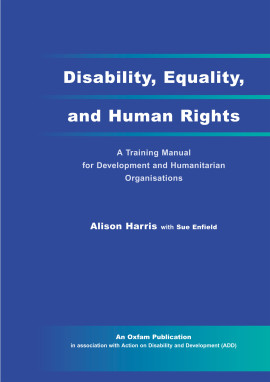 Disability, Equality and Human Rights
Published: 2003
Pages: 354

eBook: 9780855987046
Paperback: 9780855984854
This book's basic premise is that disabled people themselves know best what their needs are and that they should be involved in the planning and delivery of relief and development initiatives. The most effective support that agencies can offer is to empower them to claim their basic human rights and their civil and legal rights. The text is based on the experience of Oxfam staff working before, during and after the crisis in Kosovo; but its principles and practical training materials can be applied far more widely. Case studies from Africa and Asia arising from the work of Action and Disability and Development (ADD) show how the values of equality, empowerment and autonomy that are promoted by the social model of disability are universal in their relevance. It suggests practical materials particularly useful to trainers working in geographically isolated areas without access to sophisticated equipment. Most activities and exercises can be adapted for use in groups of people with a wide range of impairments and educational levels.
Foreward

Preface

Acknowledgements

Introduction

Part 1: The principles of Disability Equality training

Part 2: The practice of Disability Equality training

Resources

Appendix

General index

Index of training methods
Challenges faced by parents of children with learning disabilities in Opuwo, Namibia
Taderera, Clever
Hall, Herna
African Journal of Disability, Vol. 6 (2017), Iss.
https://doi.org/10.4102/ajod.v6i0.283
[Citations: 13]
Universal Accessibility of National Parks in South Africa and Zimbabwe: Park Management Perceptions
Chikuta, Oliver
du Plessis, Engelina
Saayman, Melville
(2021) P.1
https://doi.org/10.1080/21568316.2021.1910556
[Citations: 1]
Trauma Rehabilitation After War and Conflict
Community-Based Rehabilitation in Post-conflict and Emergency Situations
Eide, Arne H.
2010
https://doi.org/10.1007/978-1-4419-5722-1_5
[Citations: 2]
Examining Mental Health through Social Constructionism
Models of Disability and the Translation to Psychiatric Categories
O'Reilly, Michelle
Lester, Jessica Nina
2017
https://doi.org/10.1007/978-3-319-60095-6_5
[Citations: 0]
The impact of community based rehabilitation as implemented by community rehabilitation facilitators on people with disabilities, their families and communities within South Africa
Chappell, Paul
Johannsmeier, Christa
Disability and Rehabilitation, Vol. 31 (2009), Iss. 1 P.7
https://doi.org/10.1080/09638280802280429
[Citations: 42]
The Development of Speech-Language Pathology in Zambia: A Reflection on the Current Landscape and Two Contrasting Training Models
Bright, Suzanna
Selemani, Chisomo
Perspectives of the ASHA Special Interest Groups, Vol. 2 (2017), Iss. 17 P.63
https://doi.org/10.1044/persp2.SIG17.63
[Citations: 0]
International Handbook of Educational Leadership and Social (In)Justice
Inclusive Education for Children with Special Needs: The Case of Lebanon
Oweini, Ahmad
Zein, Heyam Lutfi El
2014
https://doi.org/10.1007/978-94-007-6555-9_44
[Citations: 1]
Disability in the Global South
Global Institutions and Their Engagement with Disability Mainstreaming in the South: Development and (Dis)Connections
Chataika, Tsitsi
McKenzie, Judith A.
2016
https://doi.org/10.1007/978-3-319-42488-0_27
[Citations: 4]
Handbook of Research on Entrepreneurship, Innovation, and Internationalization
Importance of Entrepreneurship in the Organizational Performance of Higher Education Institutions
Lourenço, Rodrigo Teixeira
Valente, Fernando Manuel
2019
https://doi.org/10.4018/978-1-5225-8479-7.ch009
[Citations: 0]
We are Not Asexual Beings: Disabled Women in Zimbabwe Talk About Their Active Sexuality
Peta, Christine
McKenzie, Judith
Kathard, Harsha
Africa, Adelene
Sexuality Research and Social Policy, Vol. 14 (2017), Iss. 4 P.410
https://doi.org/10.1007/s13178-016-0266-5
[Citations: 8]
Lived Experience of Disability Equality Training Facilitators: Narratives of Disabled People From Ulaanbaatar, Mongolia
Higashida, Masateru
SAGE Open, Vol. 11 (2021), Iss. 3 P.215824402110326
https://doi.org/10.1177/21582440211032656
[Citations: 0]
Challenges and support needs of parents of children with developmental disabilities (DD) in Accra, Ghana
Oti-Boadi, M.
Osei-Tutu, A.
Mate-Kole, C.C.
Research in Developmental Disabilities, Vol. 128 (2022), Iss. P.104274
https://doi.org/10.1016/j.ridd.2022.104274
[Citations: 0]
Sociological Perspectives on Sustainable Development and Poverty Reduction in Rural Populations
Predicament of Disability, Old Age, and Extreme
2022
https://doi.org/10.4018/978-1-7998-4646-8.ch011
[Citations: 0]
Mixed Methods Research Strategies With Deaf People
Wilson, Amy T.
Winiarczyk, Rowena E.
Journal of Mixed Methods Research, Vol. 8 (2014), Iss. 3 P.266
https://doi.org/10.1177/1558689814527943
[Citations: 3]
Sign Language as Medium of Instruction in Botswana Primary Schools: Voices from the Field
Mpuang, Kerileng D.
Mukhopadhyay, Sourav
Malatsi, Nelly
Deafness & Education International, Vol. 17 (2015), Iss. 3 P.132
https://doi.org/10.1179/1557069X14Y.0000000047
[Citations: 1]
Is emergency preparedness a 'disaster' for people with disabilities in the US? Results from the 2006–2012 Behavioral Risk Factor Surveillance System (BRFSS)
Smith, Diane L.
Notaro, Stephen J.
Disability & Society, Vol. 30 (2015), Iss. 3 P.401
https://doi.org/10.1080/09687599.2015.1021413
[Citations: 11]
Présentation d'un dispositif d'accompagnement vers l'insertion professionnelle de personnes présentant un handicap psychique
Couhet, Geoffroy
Dupérier, Jean-Philippe
Maysonnave, Isabelle
Merceron, Karine
Santé mentale au Québec, Vol. 42 (2017), Iss. 2 P.105
https://doi.org/10.7202/1041917ar
[Citations: 0]