Book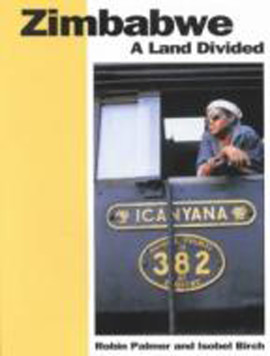 Zimbabwe
A Land Divided
Published: 1992
Pages: 64

eBook: 9780855988852
Traces the history and experience of a country which is recovering its own identity after colonization, liberation, struggles and civil war. The record of the Zimbabwean government is examined, showing its early successes in such areas as improving health care and education.
Introduction

Great Zimbabwe

Roads to freedom: the Second Chimurenga

The shadow of South Africa

A sort of refugee: problems on the Mozambican border

War returns to Matabeleland

Facts and firures

Agriculture and the devided land

Land for the people: reform and resettlement

'The fields grow dust and stones': drought grips Zimbabwe

Taming the enviroment - or working with it?

Changing roles for women

Education: 'the birthright of every Zibabwean'

Health for all by the year 2000?

The disability movement

The economy: sold to the highest bidder?

City life

Culture - ancient and modern

Sport: a national obsession

Conclusion: a land divided?

A chronology of a nation

Sources and further reading

Notes and acknowledgements
Robin Palmer
Robin Palmer is a global land rights policy specialist, with a particular focus on Southern and Eastern Africa and South-East Asia. He has undertaken consultancy work on land rights issues for DFID, Danida, the EU, the Legal Resources Centre of South Africa and Oxfam. He is currently working on global land grabbing and continues to manage Oxfam's prestigious Land Rights in Africa website.
Isobel Birch
Isobel Birch works in the policy department of Oxfam GB, developing strategies to strengthen programme communications. She has been associated with Oxfams Kenya programme since 1992,first as an emergency project manager, and later as an adviser with responsibility for programme learning