Book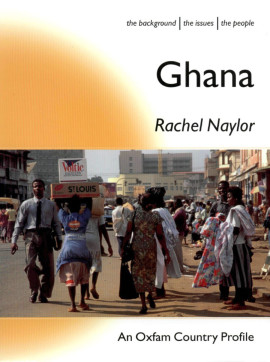 Ghana
Published: 2000
Pages: 88

eBook: 9780855987596
Paperback: 9780855984311
This outstanding series provides concise and lively introductions to countries and the major development issues they face. Packed full of factual information, photographs and maps, the guides also focus on ordinary people and the impact that historical, economic and environmental issues have on their lives.
* Introduction

* Tropical coast to sub-Sahara

* From Gold Coast to Ghana

* From dream to despair

* Structural adjustment

* Democracy, decentralisaton, and development

* Oral culture, story-telling, and the media

* The basics: health and water

* Education for all

* Living off the land

* Minerals, manufacturing and industry

* Urban Ghana

* Clothing, festivals, and the visual arts

* Culture, tradition, and change

* Violence and conflict in Ghana

* Facing the future: into the new millenium

* Dates and events

* Facts and figures

* Sources and further reading

* Acknowledgements

* Oxfam in Ghana

* Index
Rachel Naylor
Rachel Naylor is an anthropologist and development specialist, who has worked and travelled extensively in Ghana for the past ten years. She is the co-author of "Building Sustainable Peace: Conflict, Conciliation, and Civil Society in Northern Ghana
Betrayed
Building Support for an Inclusive Agenda
Kaplan, Seth D.
2013
https://doi.org/10.1057/9781137341808_7
[Citations: 0]
The British and curriculum development in West Africa: A historical discourse
Ofori-Attah, Kwabena Dei
International Review of Education, Vol. 52 (2006), Iss. 5 P.409
https://doi.org/10.1007/s11159-006-9001-4
[Citations: 6]
New border crossings for the interaction hypothesis: the effects of feedback on Gonja speakers learning English in a rural school in Ghana
Sherris, Ari
Burns, M. Susan
Pedagogies: An International Journal, Vol. 10 (2015), Iss. 3 P.238
https://doi.org/10.1080/1554480X.2015.1050026
[Citations: 1]