Book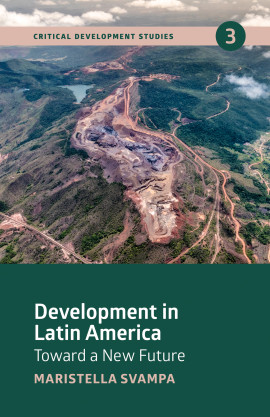 Development in Latin America
Toward a New Future
Series: Critical Development Studies
Published: 2019
Pages: 160

eBook: 9781788530941
Paperback: 9781788530910
Hardback: 9781788530927
In Development in Latin America, Maristella Svampa explores the contemporary development and resistance dynamics of capitalist development — the workings (on people and societies) of the world capitalist system — in the context of Latin America, where these dynamics have had their most notable outcomes.

She focuses on the phenomenon of "neoextractivism," the combination of the global advance of resource-seeking extractive capital (foreign investments in the extraction of natural resources) and the commodities consensus (export of raw materials), among both neoliberal and progressive governments — analyzing their common elements as well as their differences.

Svampa explores the complex dynamics of socio-environmental conflict associated with neoextractivism, as well as what she refers to as the "eco-territorial turn." Svampa's analysis includes both the ecological and gender dimensions of the global and regional capitalist development process.

Maristella Svampa is an Argentine sociologist, writer and activist. She is a researcher at Conicet (Argentine National Scientific and Technical Research Council) and a professor at the Universidad Nacional de la Plata (Buenos Aires Province). She participates in the Permanent Alternative to Development Group in Latin America and coordinates several groups concerned with ecological themes in Argentina. Maristella Svampa has written several books about political and social problems in Latin America.
Introduction

Neoextractivism and Development

Socio-Environmental Conflicts and "Valuation Languages"

Dimensions of the Eco-Territorial Turn

Neoextractivism in Extremis

The End of a Cycle and New Dependencies

Final Thoughts: Dimensions of the Systemic Crisis

References

Index
The political economy of agrarian extractivism: Lessons from Bolivia, by BenMcKay. Black Point: Fernwood Publications. 2020 172 pp. $20.00 (paperback). ISBN: 9781773632537
Dunlap, Alexander
Journal of Agrarian Change, Vol. 22 (2022), Iss. 1 P.214
https://doi.org/10.1111/joac.12443
[Citations: 0]