Book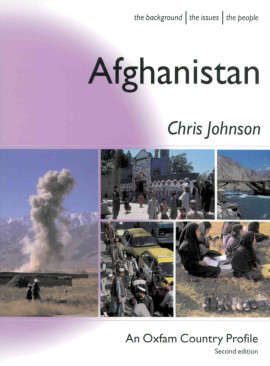 Afghanistan
Published: 2004
Pages: 96

eBook: 9780855986513
Paperback: 9780855985035
This outstanding series provides concise and lively introductions to countries and the major development issues they face. Packed full of factual information, photographs and maps, the guides also focus on ordinary people and the impact that historical, economic and environmental issues have on their lives.
Introduction

Afghanistan: ancient and modern

Imperial chess games

The struggle for power continues

The impact of September 11th

Challenges for the future

Land,livelihoods, and the environment

Restoring services

The return of refugees and displaced people

Justice and human rights

In conclusion

Facts and figures

Who's who in Afghanistan

An Afghan chronology

Sources and further reading
Chris Johnson
Chris Johnson is an independent consultant. She has worked in Afghanistan since 1996, first for Oxfam and then as Director of the Strategic Monitoring Unit (now AREU).