Book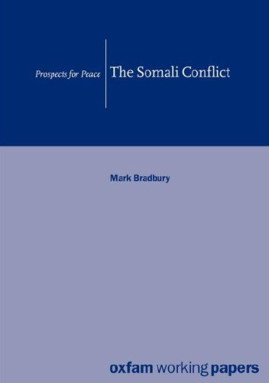 The Somali Conflict
Prospects for peace
Published: 1994
Pages: 156

eBook: 9780855988555
Paperback: 9780855982713
Oxfam carries out original research on various aspects of its overseas programme, as part of a constant monitoring process, and in an effort to gain greater understanding of development programmes and practice. Although primarily a tool for institutional learning, some of the resulting reports are of wider interest. As part of its commitment to sharing experience of good practice, Oxfam publishes those reports which describe innovative research projects, evaluate particularly interesting projects or programmes, or are the proceedings of workshops or seminars. This study examines the complex range of forces that have shaped the conflict in Somalia, and recommends contributions which NGOs might make towards the building of a lasting peace.
PART I: Introduction

Background report

Executive Summary

PART II: Background to the Somali war

Introduction to Somalia

The Somali civil war

Understanding the conflict

PART III: Mogadishu: Peace enforcement

The Internationalization of the Somali conflict

The politics of UNOSOM

District councils

Humanitarian issues - NGOs and UNOSOM

PART IV: Kismayo: Peace-making

Background to the Kismayo wars

The Kismayo peace conference

A fragile peace

Conclusions and Recommendations

PART V: Somaliland: Peace building

Secession and Cessation

The Boroma conference

Post-Boroma

Demobilization

The Sanaag Grand Peace Conference

Conclusions and Recommendations

POSTSCRIPT

NOTES

REFERENCES

APPENDICES

INDEX.
Mark Bradbury
Mark Bradbury is a social analyst and an experienced aid practitioner and researcher. He has lived and worked in Sudan and Somalia. His research has covered Somalia, Sudan, Sierra Leone, Kosovo, conflict and development, complex emergencies, conflict resolution, and human rights. He is Director of the Rift Valley Institute Horn of Africa Course.
The Continuing Metamorphosis of the Humanitarian Practitioner: Some New Colours for an Endangered Chameleon
SLIM, HUGO
Disasters, Vol. 19 (1995), Iss. 2 P.110
https://doi.org/10.1111/j.1467-7717.1995.tb00362.x
[Citations: 34]
Somalia divided: The African Cerberus (considerations on political culture)
Fox, M.J.
Civil Wars, Vol. 2 (1999), Iss. 1 P.1
https://doi.org/10.1080/13698249908402395
[Citations: 3]
Disarming Somalia: lessons in stabilisation from a collapsed state
Bryden, Matt
Brickhill, Jeremy
Conflict, Security & Development, Vol. 10 (2010), Iss. 2 P.239
https://doi.org/10.1080/14678801003665992
[Citations: 9]
The invention of 'terrorism' in Somalia: paradigms and policy in US foreign relations
Elliot, Ashley
Holzer, Georg-Sebastian
South African Journal of International Affairs, Vol. 16 (2009), Iss. 2 P.215
https://doi.org/10.1080/10220460903268984
[Citations: 0]
<em>Customary Dispute Resolution in Somalia</em>
African Conflict and Peacebuilding Review, Vol. 2 (2012), Iss. 1 P.87
https://doi.org/10.2979/africonfpeacrevi.2.1.87
[Citations: 5]
Lessons not learned: The use of force in 'peace operations' in the 1990s
Berdal, Mats
International Peacekeeping, Vol. 7 (2000), Iss. 4 P.55
https://doi.org/10.1080/13533310008413863
[Citations: 11]
Cultural issues in contemporary peacekeeping
Duffey, Tamara
International Peacekeeping, Vol. 7 (2000), Iss. 1 P.142
https://doi.org/10.1080/13533310008413823
[Citations: 52]
Świadomość międzykulturowa. Od militaryzacji antropologii do antropologizacji wojska
Schreiber, Hanna
2013
https://doi.org/10.31338/uw.9788323520559
[Citations: 2]
Multidisciplinary Issues Surrounding African Diasporas
Knowledge and Skills Transfer as Peace-Building Mechanisms
Omar, Yusuf Sheikh
2020
https://doi.org/10.4018/978-1-5225-5079-2.ch011
[Citations: 1]