Book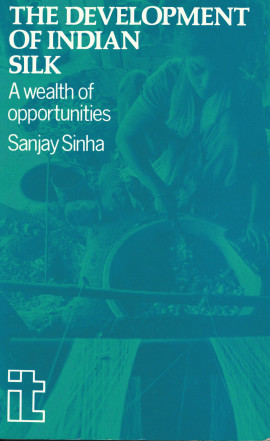 Development of Indian Silk
A wealth of opportunities
Published: 1990
Pages: 128

eBook: 9781780442020
Paperback: 9781853390173
Provides an overview of the techno-economic issues in the production of silk in India, examines the development impact of the activity and suggests strategies for strengthening its contribution to rural development.
Sanjay Sinha
Sanjay Sinha is co-founder of EDA Rural Systems Private Limited, one of the leading development consultancies in Asia and parent company of M-CRIL.He pioneered the development of credit rating framework for MFIs and has been instrumental in mainstreaming credit rating and flow of commercial funds to the sector. He has provided consultancy to international organizations like UNDP, ADB & ILO.
Biotechnology of Silk
Wild Silk Production to Support Farmers Excluded from Protected Areas in Madagascar
Weber, Robert S.
Craig, Catherine L.
2014
https://doi.org/10.1007/978-94-007-7119-2_1
[Citations: 0]
Nutritional quality of leaves of some genotypes of mulberry (Morus alba)
Srivastava, Sarita
Kapoor, Rashmi
Thathola, Anju
Srivastava, Rajesh Prakash
International Journal of Food Sciences and Nutrition, Vol. 57 (2006), Iss. 5-6 P.305
https://doi.org/10.1080/09637480600801837
[Citations: 62]
A Development Success Story? Low Caste Entrepreneurship and Inequality: An Indian Case Study
Mayoux, Linda
Development and Change, Vol. 24 (1993), Iss. 3 P.541
https://doi.org/10.1111/j.1467-7660.1993.tb00496.x
[Citations: 7]