Book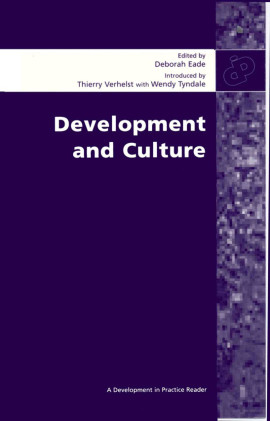 Most development policies and interventions are based on an assumption that 'modernisation' in the Western sense is the ultimate goal of human societies. Culture is therefore regarded either as an impediment to progress or as something outside the economic and political spheres and consigned to areas of religion and ritual. This collection of papers, published in association with World Faiths Development Dialogue and written by a range of aid practitioners and scholars, shows the need not merely to view culture as an important dimension of development but to see development itself as a cultural expression and culture as the basis upon which societies can develop through self-renewal and growth.
Contributors

Preface

Cultures, spirituality, and development 1

Culture, liberation, and 'development' 25

Globalism and nationalism: which one is bad? 38

Faith and economics in 'development': a bridge across the chasm? 45

Spirituality: a development taboo 60

Communal conflict, NGOs, and the power of religious symbols 78

Ethnicity and participatory development methods in Botswana: some participants are to be seen and not heard 92

Women, resistance, and development: a case study from Dangs, India 110

Gendering the millennium: globalising women 130

Stressed, depressed, or bewitched? A perspective on mental health, culture, and religion 142

Responding to mental distress in the Third World: cultural imperialism or the struggle for synthesis? 155

Research into local culture: implications for participatory development 168

Some thoughts on gender and culture 174

Resources 177

Index 194
Deborah Eade Deborah Eade was Editor-in-Chief of Development in Practice from 1991 to 2010, prior to which she worked for 10 years in Latin America. She is now an independent writer on development and humanitarian issues, based near Geneva.
Agroforestry
Agroforestry Systems as Adaptation Measures for Sustainable Livelihoods and Socio-economic Development in the Sikkim Himalaya
Sharma, Ghanashyam
Sharma, Eklabya
2017
https://doi.org/10.1007/978-981-10-7650-3_8
[Citations: 2]
Conceptualising disability in Ghana: implications for EFA and inclusive education
Anthony, Jane
International Journal of Inclusive Education, Vol. 15 (2011), Iss. 10 P.1073
https://doi.org/10.1080/13603116.2011.555062
[Citations: 55]
Promoting gender equality in the context of Nigerian cultural and religious expression: beyond increasing female access to education
Para‐Mallam, Funmi J.
Compare: A Journal of Comparative and International Education, Vol. 40 (2010), Iss. 4 P.459
https://doi.org/10.1080/03057925.2010.490370
[Citations: 13]
Culture and food security: a case study of homestead food production in South Africa
Trefry, Amy
Parkins, John R.
Cundill, Georgina
Food Security, Vol. 6 (2014), Iss. 4 P.555
https://doi.org/10.1007/s12571-014-0362-4
[Citations: 17]
Governmental donor agencies and faith-based organizations
Holenstein, Anne-Marie
International Review of the Red Cross, Vol. 87 (2005), Iss. 858 P.367
https://doi.org/10.1017/S1816383100181391
[Citations: 4]
Transnationalism and the Development of the Deterritorialised Tongan Nation-State
Wallis, Joanne
Studies in Ethnicity and Nationalism, Vol. 8 (2008), Iss. 3 P.408
https://doi.org/10.1111/j.1754-9469.2008.00033.x
[Citations: 3]
Going Beyond
Heritage Conservation and Sustainable Development in Sacred Places: Towards a New Approach
Serafi, Sara Anas
Fouseki, Kalliopi
2017
https://doi.org/10.1007/978-3-319-57165-2_9
[Citations: 1]