Book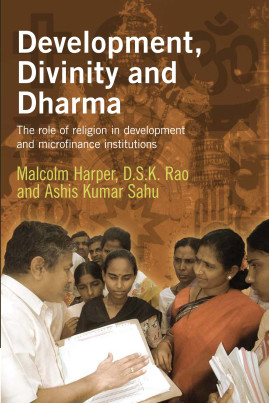 Development, Divinity and Dharma
The role of religion in development and microfinance institutions
Malcolm Harper, DSK Rao, Ashis Kumar Sahu
Published: 2008
Pages: 176

eBook: 9781780440767
Paperback: 9781853396557
Faith-based institutions are getting involved in economic development programmes, including microfinance, and many foreign donors are looking to religious organizations for new ways to reach the poorest people. This book considers the work of a number of these, of different faiths, and asks what is 'special' about them. Do religious links make these organizations more or less effective? Should spiritual development and economic upliftment be kept apart? Development, Divinity and Dharma explores these questions by examining a number of Hindu, Christian and Muslim institutions in India and in Pakistan. Its main focus is the Shri Kshetra Dharmasthala Rural Development programme, which though little known outside south India, has changed the lives of almost half a million people, including Hindus, Muslims and Christians, through social and economic development programmes which are motivated by religious faith.
Prelims (Contents, Figures, Tables, Boxes, Acknowledgements, About the authors, List of abbreviations)

1. Introduction

2. Religion and development - can they go together?

3. How does religion affect the 'BINGOs'?

4. Dakshin Kannada and Dharmasthala Temple

5. SKDRDP, the rural development programme

6. Microfinance

7. Livelihoods

8. The sevanirathas

9. Two cases of success

10. The results of SKDRDP's work; What explains SKDRDP's success?

11. Islamic development practice

12. Christian development practice and some examples
Malcolm Harper
Malcolm Harper taught at Cranfield School of Management until 1995, and since then has worked mainly in India. He has published on enterprise development and microfinance. He was Chairman of Basix Finance from 1996 until 2006, and is Chairman of M-CRIL, the microfinance credit rating agency.
DSK Rao
DSK Rao is the Regional Organizer for Asia-Pacific, Microcredit Summit Campaign. He has 22 years' experience in rural development banking with NABARD, the apex development financial institution in India. He has published extensively on farmer management of irrigation and self-help groups for the socio-economic empowerment of poor women.
Ashis Kumar Sahu
Ashis Kumar Sahu has been a practitioner and researcher in microfinance and livelihoods for about 10 years, and is associated with The Livelihoods School, promoted by BASIX, Sa-Dhan, the Indian Association of Community Development Financial Institutions, RCDC in Orissa and Urmul Trust in Rajasthan.