Book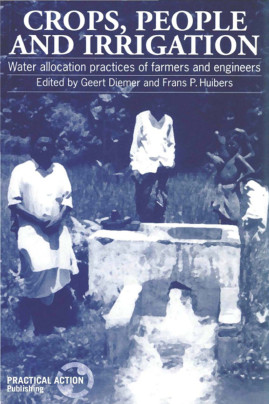 Crops, People and Irrigation
Water allocation practices of farmers and engineers
Published: 1996
Pages: 168

eBook: 9781780444727
Paperback: 9781853393044
In the case studies presented here, irrigation engineers describe water distribution practices as they actually occur in various schemes. Six of the schemes (in Indonesia, Mexico, Portugal and Bolivia) are farmer-managed, and two (in South India and Bali) are managed jointly by farmers and technical officers. The authors relate water flows to social processes and contrast conventional engineering wisdom with the practices they have observed.
PREFACE

1. Introduction 1

Geert Diemer and Frans P. Huibers

2. Signposts of struggle: pipe outlets as the material interface

between water users and the state in a large-scale irrigation

system in South India 11

Peter P. Mollinga and Alex Bolding

3. Intervention in irrigation water division in Bali, Indonesia:

a case of farmers' circumvention of modern technology 34

Lucas Horst

4. The materialization of water rights: hydraulic property in

the extension and rehabilitation of two irrigation systems in

Bolivia 53

Gerben Gerbrandy and Paul Hoogendam

5. Religion and local water rights versus land owners and

state: irrigation in Izucar de Matamoros (west bank),

Mexico 73

Marc Nederlof and Eric van Wayjen

6. Rehabilitation of a farmer-managed system in Izucar de

Matamoros (east bank): two interpretations of technical

concepts 90

Timen Eilander

7. From allocation to distribution: operational rules in a

communal irrigation system in Northern Portugal 101

Paul Hoogendam, Adri van den Dries, Jose Portela, Moniek

Stam and Julia Carvalho

8. Effects of a technical intervention programme on water

distribution and water use 116

Adri van den Dries, Paul Hoogendam and Jose Portela

9. Designing for fanner management in the Senegal river

valley 128

Ibrahima Dia, Geert Diemer, Wim F. van Driel and

Frans P. Huibers

REFERENCES 150
Geert Diemer Geert Diemar, social scientist, is senior lecturer in the Department of Irrigation and Soil and Water Conservation of Wageningen Agricultural University, The Netherlands.
Frans Huibers Frans Huibers, irrigation engineer, is senior lecturer in the Department of Irrigation and Soil and Water Conservation of Wageningen Agricultural Universtiy, The Netherlands.
Local Perception of the Multifunctionality of Water Tanks in Two Villages of Tamil Nadu, South India
Reyes-García, Victoria
Aubriot, Olivia
Ariza-Montobbio, Pere
Galán-Del-Castillo, Elena
Serrano-Tovar, Tarik
Martinez-Alier, Joan
Society & Natural Resources, Vol. 24 (2011), Iss. 5 P.485
https://doi.org/10.1080/08941920802506240
[Citations: 7]
Resource-centred thinking in river basins; should we revoke the crop water requirement approach to irrigation planning?
Lankford, Bruce A
Agricultural Water Management, Vol. 68 (2004), Iss. 1 P.33
https://doi.org/10.1016/j.agwat.2004.03.001
[Citations: 11]
Property, legal pluralism, and water rights: the critical analysis of water governance and the politics of recognizing "local" rights
Roth, Dik
Boelens, Rutgerd
Zwarteveen, Margreet
The Journal of Legal Pluralism and Unofficial Law, Vol. 47 (2015), Iss. 3 P.456
https://doi.org/10.1080/07329113.2015.1111502
[Citations: 28]
SMALLHOLDER IRRIGATORS: ECONOMIC CHALLENGES AND TOOLS
Chancellor, F.
Agrekon, Vol. 38 (1999), Iss. sup001 P.259
https://doi.org/10.1080/03031853.1999.9524920
[Citations: 2]