Book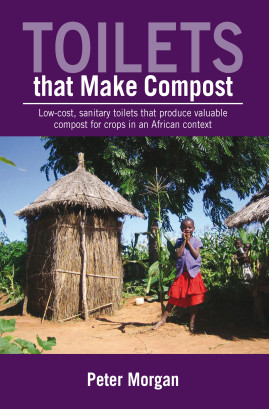 Toilets That Make Compost
Low-cost, sanitary toilets that produce valuable compost for crops in an African context
Published: 2008
Pages: 112

eBook: 9781780441313
Paperback: 9781853396748
Most People in rural Africa do not have access to safe toilets and their health and well-being suffers as a consequence. There is an urgent need for the construction of simple, low-cost, affordable toilets that are easy to build and maintain. Toilets that make compost provides practical examples of toilets that, in addition to providing a safe sanitation option, also recycle the nutrients in excreta to produce compost. This compost is valued wherever wherever households have enough space to grow fruit and vegetables in their back gardens; the designs are suitable for regions where there is no high water table or prolonged wet season. This book provides detailed instructions for constructing a range of toilets from the simplest and most affordable to the more sophisticated ecological toilet.
Prelims (Praise for the book, Contents, Acknowledgements, Figures)

1. Introduction; Compost-Making Toilets

2. Arborloo - The Single Pit Compost Toilet

3. Fossa alterna - The Double Pit Compost Toilet; Low Cost Pedestals for Simple Pit Toilets

4. Urine-diverting Toilets

5. Upgrading the Toilet System; Odour and Fly Control; A Matter of Hygiene and Hand Washing

6. How to Use Toilet Compost in the Garden; How to Use Urine in the Garden

7. Summary; Conclusions

Back Matter (Bibliography)
Peter Morgan
Peter Morgan PhD has been working in the rural water supply and sanitation sector for 25 years and has also developed several pioneering approaches to ecological sanitation. He was connected to the Blair Research Institute, Zimbabwe, developing a number of low-cost, appropriate sanitation options, Peter now works with the consultancy company Aquamor (Pvt) Limited, Zimbabwe and is a consultant to the Stockholm Environment Institute.
A system perspective in sanitation – Human waste from cradle to grave and reincarnation
Zurbrügg, C.
Tilley, E.
Desalination, Vol. 248 (2009), Iss. 1-3 P.410
https://doi.org/10.1016/j.desal.2008.05.082
[Citations: 6]
Solar versus Non-Solar Urine Diversion Dehydration Toilets—Evaluation of Temperatures inside the Vaults of Different UDDT Systems
Windberg, Constanze
Otterpohl, Ralf
Journal of Environmental Protection, Vol. 07 (2016), Iss. 09 P.1221
https://doi.org/10.4236/jep.2016.79109
[Citations: 1]
Pondering Privies: Construction, Use, Reuse, and Other Speculations About Cesspits in the Archaeological Record
Smith, David
Journal of Archaeological Method and Theory, Vol. 28 (2021), Iss. 2 P.446
https://doi.org/10.1007/s10816-020-09459-6
[Citations: 1]