Book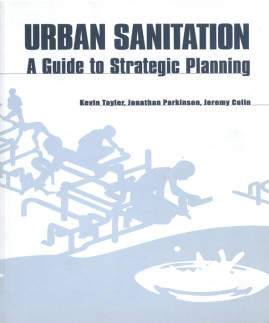 Urban Sanitation covers all stages of the planning process and shows how unified urban sanitation planning is a vital weapon in the war against disease. This book is for all decision makers and their advisers with a direct or indirect interest in urban sanitation. It can be used at international, national, state or provincial, municipal and local levels. It is also suitable as a text for infrastructure planning courses. The first five chapters outline the nature of urban sanitation problems, identify effective strategic responses to them and set out practical ways in which these strategic principles can be applied. Four chapters cover critical aspects of the strategic planning process: sanitation and hygiene promotion; information collection and analysis; technology choice; and participatory workshops. The final chapter provides guidance on putting the plan into action. The book goes beyond simplistic formulae to suggest ways in which formal plans, market forces and actions at the local level can be brought together to provide a viable response to sanitation problems. The approach is simple but has potential to bring about significant impacts if regularly applied by all stakeholders, from local groups through to international agencies. It draws on a wealth of field experience and in doing so provides tried and tested findings and recommendations in 32 case studies. Supplementary sections set out the links between sanitation and health, review sanitation technologies, provide information on participatory methods and detail sources of further information.
Prelims (Contents, List of Figures, List of Tables, List of Boxes, Preface, Acknowledgements, Introduction)

1. Urban sanitation – problems and responses

2. A strategic framework for urban sanitation planning

3. Strategic sanitation planning in towns and cities

4. Developing a supportive context

5. Developing a strategic process from the local level

6. The role of sanitation and hygiene sanitation promotion in developing and informing demand

7. Gathering and using information for strategic planning

8. Choosing an appropriate sanitation technology

9. Guidelines for holding a participatory workshop

10. Implementing the plan

Back Matter (Appendices 1 - 4, Glossary, References, Index)
Kevin Tayler
The late Kevin Tayler was a municipal engineer with over 20 years' experience of urban infrastructure planning in developing countries and was an Honorary Professor in the School of City and Regional Planning at Cardiff University.
Jonathan Parkinson
Jonathan Parkinson is a civil and environmental engineer specializing in the planning and design of urban infrastructure and services for sanitation and wastewater management for low-income settlements in developing countries.
Jeremy Colin
Jeremy Colin is an independent consultant in water and environmental health for low-income communities. He has field experience in South Asia, Africa and the UK.
Storm-water management in low-income countries
Reed, Brian
Proceedings of the Institution of Civil Engineers - Municipal Engineer, Vol. 166 (2013), Iss. 2 P.111
https://doi.org/10.1680/muen.12.00029
[Citations: 6]
Using tenure to build a "sanitation cityscape": narrowing decisions for targeted sanitation interventions
Scott, Pippa
Cotton, Andrew
Sohail, M
Environment and Urbanization, Vol. 27 (2015), Iss. 2 P.389
https://doi.org/10.1177/0956247815569415
[Citations: 13]
The Waterless Portable Private Toilet: An Innovative Sanitation Solution in Disaster Zones
Kim, Yongkyun
Hashemi, Shervin
Han, Mooyoung
Kim, Tschungil
Sohn, Hong-Gyoo
Disaster Medicine and Public Health Preparedness, Vol. 10 (2016), Iss. 2 P.281
https://doi.org/10.1017/dmp.2015.166
[Citations: 6]
Achieving sustainable sanitation chains through better informed and more systematic improvements: lessons from multi-city research in Sub-Saharan Africa
Medland, L. S.
Scott, R. E.
Cotton, A. P.
Environmental Science: Water Research & Technology, Vol. 2 (2016), Iss. 3 P.492
https://doi.org/10.1039/C5EW00255A
[Citations: 3]
Pits, pipes, ponds – And me
Mara, Duncan
Water Research, Vol. 47 (2013), Iss. 7 P.2105
https://doi.org/10.1016/j.watres.2013.01.051
[Citations: 15]
Strategies for improved water supply in India and Pakistan
Tayler, K.
Proceedings of the Institution of Civil Engineers - Municipal Engineer, Vol. 161 (2008), Iss. 4 P.239
https://doi.org/10.1680/muen.2008.161.4.239
[Citations: 4]
Emerging categories of urban shared sanitation
Mazeau, Adrien
Reed, Brian
Sansom, Kevin
Scott, Rebecca
Water and Environment Journal, Vol. 28 (2014), Iss. 4 P.592
https://doi.org/10.1111/wej.12075
[Citations: 9]
Citywide Inclusive Sanitation: A Public Service Approach for Reaching the Urban Sanitation SDGs
Schrecongost, Alyse
Pedi, Danielle
Rosenboom, Jan Willem
Shrestha, Roshan
Ban, Radu
Frontiers in Environmental Science, Vol. 8 (2020), Iss.
https://doi.org/10.3389/fenvs.2020.00019
[Citations: 25]