Book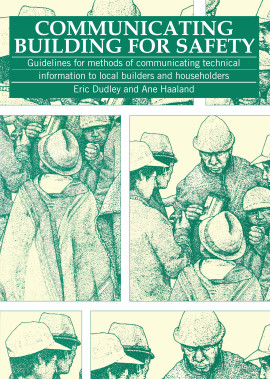 Communicating Building For Safety
Guidelines for communicating technical information to local builders and householders
Published: 1993
Pages: 80

eBook: 9781780443997
Paperback: 9781853391835
Presents the principles of communicating the information needed for building improvement. Covers the uses of different media to convey information and describes the use of graphic design for education.
Introduction 1

Who is this book for? 3

What is this book for? 3

1. Communication in planning 5

Community participation, 5

Information gathering in the field, 7

How people change, 11

2. Educational materials 14

Choice of media, 14

Demonstration buildings, 19

Local relevance, 20

How many messages? 21

Preproduction testing, 21

Educational context, 27

Training, 27

Impact assessment, 28

3. Illustrating building for safety 32

Picture styles, 33

Symbols and conventions, 43

Cartoons, 54

Connections and sequence, 59

Cultural associations, 64

Use of text and language, 73

Conclusions 79

Further reading 80

Picture credits so
What have we learned from 40 years' experience of Disaster Shelter?
Davis, Ian
Environmental Hazards, Vol. 10 (2011), Iss. 3-4 P.193
https://doi.org/10.1080/17477891.2011.597499
[Citations: 27]
Why Do Buildings Collapse in Earthquakes?
How Can Buildings Be Improved?
2021
https://doi.org/10.1002/9781119619475.ch7
[Citations: 0]
Saving lives in earthquakes: successes and failures in seismic protection since 1960
Spence, Robin
Bulletin of Earthquake Engineering, Vol. 5 (2007), Iss. 2 P.139
https://doi.org/10.1007/s10518-006-9028-8
[Citations: 53]
Unauthorised development and seismic hazard vulnerability: a study of squatters and engineers in Istanbul, Turkey
Green, Rebekah A.
Disasters, Vol. 32 (2008), Iss. 3 P.358
https://doi.org/10.1111/j.1467-7717.2008.01044.x
[Citations: 34]