Book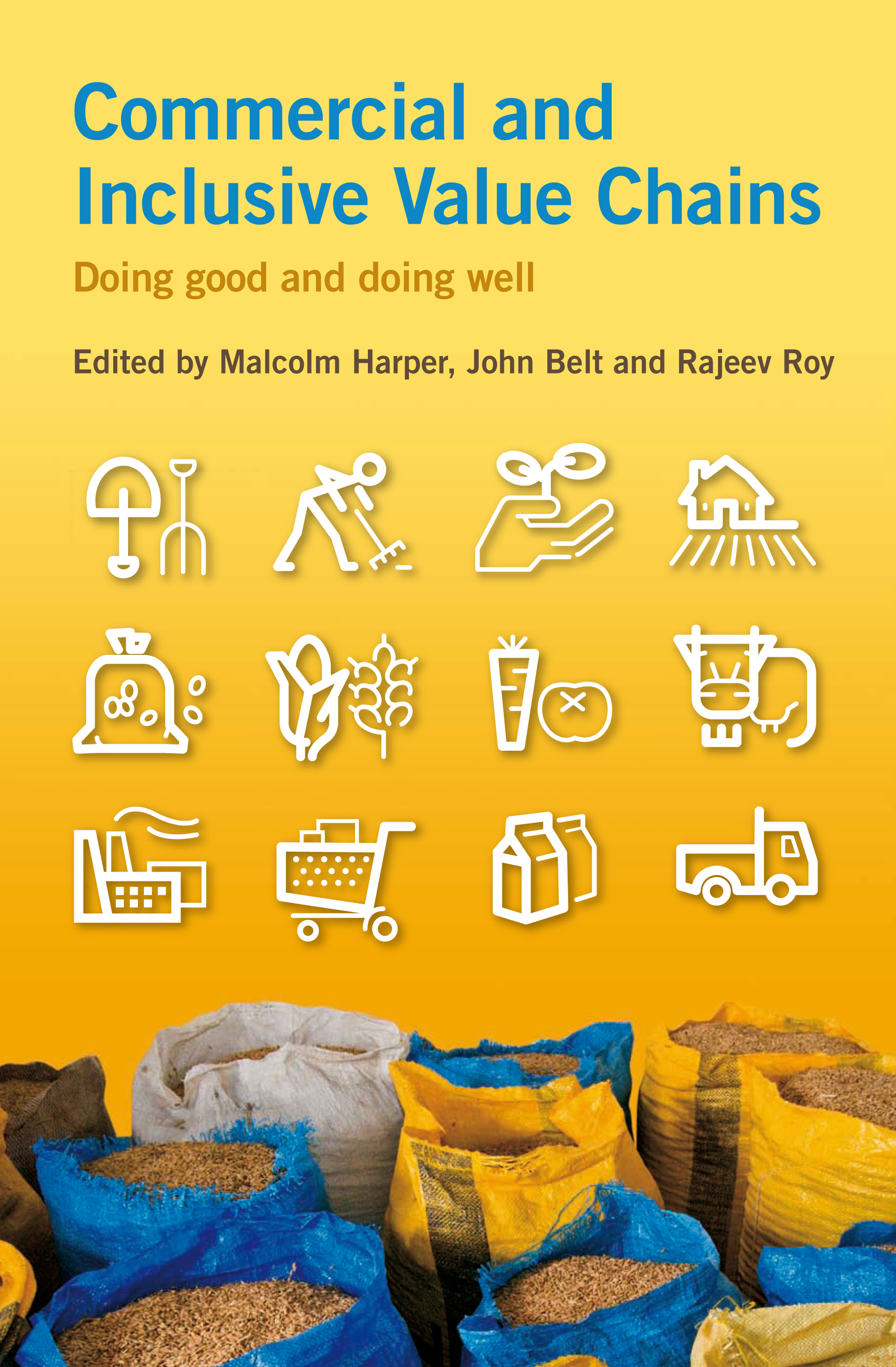 Commercial and Inclusive Value Chains
Doing good and doing well
Malcolm Harper, John Belt, Rajeev Roy
Published: 2015
Pages: 200

eBook: 9781780448671
Paperback: 9781853398681
Hardback: 9781853398674
In spite of the current wave of globalization, the majority of the world's people remain poor, excluded from economic development. The aim of this book is to show that disadvantaged smallholders and other poor people can be included in modern integrated value chains, which are profitable for them, for the value chain leaders, and for all the other processors and traders involved. And, that this can be done without subsidy, without donor or government aid, and without appeal to 'corporate social responsibility'; it is simple good business.
Commercial and Inclusive Value Chains includes case studies on fifteen profitable and inclusive value chains from different countries in Western, Eastern and North Eastern Africa, and from India, Cambodia, Peru. The goods which they handle include food stuffs and other products that are transformed through a value chain. Each case includes a detailed 'map' of the value chain, showing how much value is added at each stage, as well as the results of surveys to assess the benefit to the small producers or other disadvantaged group who are members of the chains.
This book is important reading for managers and consultants who work in value chain development, staff of NGOs and donor agencies, and researchers and post-graduate students in business schools and in departments of economics and development studies.

Acknowledgments
1. Introduction – what this book tells us about commercial value chains that include the poor
Malcolm Harper, Rajeev Roy and John Belt
Part one: Non-food Value Chains
2. Khat from Ethiopia to Somaliland
Abdirazak Warsame
3. Beer from bananas in Tanzania – a good drink and many good jobs
Jimmy Ebong and Henri van der Land
4. Changing cotton seed production improves poor people's livelihoods in South Rajasthan
Kulranjan Kujur and Vickram Kumar
5. Stove liners in Kenya – less pollution, less charcoal and more income
Hugh Allen
6. Granite in Odisha – from Indian quarries to European kitchens, if government allows
Malcolm Harper
7. Remittances – from the global diaspora to the poor in Somalia
Abdi Abokor Yusuf
Part two: Commodity foods
8. Nyirefami millet – a traditional Tanzania crop, marketed in a modern way
Jimmy Ebong and Henri van der Land
9. Rice – smallholder farmers in Malawi can be profitably included
Rollins Chitika
10. Angkor Rice – 50,000 Cambodian farmers growing for export
Rajeev Roy
11. Moksha Yug – Indian dairy farmers don't have to be in cooperatives
Chandrakanta Sahoo
12. Suguna Poultry – decentralised village production is good business
Malcolm Harper, Rajeev Roy and Phanish Kumar
Part three: Non-commodity foods
13. Green beans – from small farmers in Senegal to gourmets in Europe
Miet Maertens
14. Odisha cashew nuts to global markets – value added all the way
Kulranjan Kujur
15. Palm oil in Peru – small-scale farmers succeed where plantations failed
Rafael Meza
16. Organic turmeric from eastern India – healthy spice and healthy earnings
Niraj Kumar
17. Conclusion – what can we learn?
Malcolm Harper

'An excellent addition to the literature on the integration of the poor into mainstream value chains, illustrating that even vulnerable households can contribute to economic growth and their own development.'
Linda Jones, international consultant, Canada

'There is a growing recognition that the principles of value chain management apply to all enterprises – not just major global corporations. The authors of this important new work demonstrate how these ideas can be utilized to create truly "inclusive" supply chains resulting in beneficial outcomes to all parties.'
Dr Martin Christopher, Emeritus Professor of Marketing and Logistics, Cranfield School of Management, Cranfield University, UK

'Importantly, the case studies in this book highlight not only the successes and benefits of "inclusive value chains" but also some of the challenges and potential pitfalls. This book will provide a useful reference for individuals and organisations involved in the planning and development of commercially viable, inclusive value chains in developing economies.'
Dr David Taylor, value chain analysis and improvement specialist and advisor, formerly Co-Director of the Food Process Innovation Unit, Cardiff University Business School, UK