Book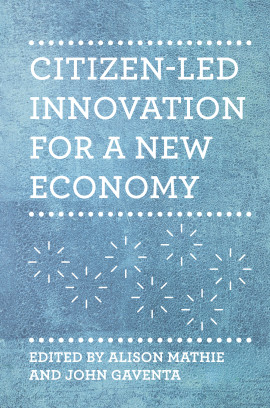 Citizen-led Innovation for a New Economy
Published: 2015
Pages: 304

eBook: 9781780449210
Paperback: 9781853399220
Hardback: 9781853399213
This collection of eleven cases from Canada and the United States gives expression to the ideal of a new economy based on fairness and environmental sustainability. Grappling with complex problems in their local communities, organized citizens are forging innovation, prying open cracks in the prevailing economic system and seizing opportunities to redirect economic life. Featured here are examples in urban and rural contexts and ethnically diverse settings — First Nations, Inuit, Latino, African American, predominantly white, and mixed communities — where citizens are challenging the short-term focus of political leadership and taking action now to pave the way for an economy that can sustain future generations. They illustrate a new way of working, tying economic justice to the creation of multiple types of environmental, economic and social assets or forms of wealth.
Prelims [List of contributors | Acknowledgements]

Planting the seeds of a new economy: Learning from citizen-led innovation

Humility and audacity: The story of vivre Saint Michel en Santé Brianne Peters

New dawn enterprises: Becoming a "Community instrument through which the people can do for themselves"

A vision of flipping the iceberg of power: The greater Edmonton alliance faces big land and big oil

Everyday good living and the two row Wampum: The vision of the Ontario Federation of Indigenous Friendship Centres

A quiet movement: Inuit self-determination

Ecotrust Canada: Building the conservation economy

Resident ownership and neighbourhood transformation: The village at Market Creek

Pushing for green solutions to urban neglect: The work of People United for Sustainable Housing (PUSH)

Permeating the mainstream: Rural action for a sustainable future for central Appalachia

Reclaiming land, reaffirming culture: The Deep South Community Agricultural Network

Reaching back to move forward towards a future of HOPE: The story of Sandhills Family Heritage Association
Situated at the meeting point of politics, economics, social activism and history, this pioneering book is rich in insights and examples that point the way to a more humane and democratic future. A must-read across many disciplines and boundaries. — Michael Edwards, Demos, New York

This important resource illustrates the power of collective impact; story after story, these cases provide an inspirational road map for innovative thought and action. — Marie Delorme, The Imagination Group, Calgary

This book provides inspiring and accessible insights into citizen-led innovations, valuable for academics, students, activists, policymakers and grantmakers. Thomas Piketty lays down the challenge of growing social inequality; Mathie and Gaventa and their contributors provide the vital building blocks for the emerging solutions economy.
— Tim Draimin, Social Innovation Generation (SiG), Toronto
Alison Mathie Alison Mathie has over 30 years experience in the international development field and has been teaching at the Coady International Institute and St Francis Xavier University for the last 10 years. Her main interest has been in promoting asset-based and community-driven approaches to community development, and using monitoring and evaluation as a means to strengthening practice by communities, NGOs, and multi-lateral agencies.
John Gaventa John Gaventa served as the director of the Coady International Institute, St. Francis Xavier University, from 2011–14. He is currently a fellow at the Institute of Development Studies at the University of Sussex.