Book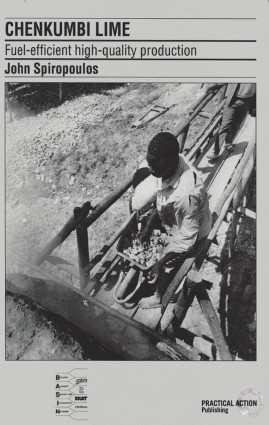 Chenkumbi Lime
Fuel-efficient high quality production
Published: 1992
Pages: 44

eBook: 9781780443973
Paperback: 9781853391446
Lime is not only an important building material but an essential ingredient in many industrial processes, such as agriculture and sugar manufacture. As a binder in the construction industry, it is simpler and cheaper to produce than Portland cement and yet just as effective for most building requirements in the Third World. As such, lime has a valuable role to play in the development process. The experience at Chenkumbi in central Malawi has demonstrated that vertical shaft kiln technology (VSK) can be adapted to small-scale production and produce high grade chemical lime economically. Another benefit of this technology over traditional methods is that coal or plantation-grown softwoods can be burnt in preference to native hardwoods — a process that has been leading to severe deforestation in the region.
INTRODUCTION 1

The case for lime

1. Raw Materials, applications and production 4

Raw materials; Applications; Theory of calcination and factors

affecting kiln design and operation; Kiln technology and choice

2. Background 10

Project location and environment; Social and economic survey;

Mineral resources; Fuel resources; Market for lime;

Preliminary investigations

3. Traditional production 13

Production cycle and technology; Input/output; Quality; Fuel

consumption and efficiency; Project implementation strategy

4. Natural draught vertical shaft kiln 17

Quarrying; Kiln firing; Slaking; Screening, milling and

bagging; Input/output; Quality; Fuel consumption and

thermal efficiency

5. Experimental forced-air kiln—Chenkumbi 20

Forced air technology; Chenkumbi Hills—experimental forced

air system; Kiln operation; Results; Input/output; Product

quality; Fuel consumption and thermal efficiency

6. Balaka forced-air system 25

Quarrying; Kiln design: operation and performance, Kiln

charging; Kiln operation; Forced air unit; Kiln discharge;

Input/output; Quality; Fuel consumption and thermal

efficiency; Experimental hydrator, milling and classification

plant

APPENDIX 1 32

Uses of lime and lime hydrate

APPENDIX 2: 33

Experimental forced-draught kiln trials

TABLES 34

1. Forced draught experimentation results;

2. Fuel consumption and efficiency;

3. Comparative capital costs;

4. Comparative incomes statement;

5. Comparative economic analysis

References 39
John Spiropoulos
John Spiropoulos is a graduate in the fields of building science and project management. He was instrumental in the establishment of a small scale building materials and minerals development company in Kanye, Botswana and was responsible for the project investigation and implementation of several building materials production projects including a small limeworks and a fired clay brickworks.
The transformation and successful development of small-scale mining enterprises in developing countries
Davidson, Jeffrey
Natural Resources Forum, Vol. 17 (1993), Iss. 4 P.315
https://doi.org/10.1111/j.1477-8947.1993.tb00192.x
[Citations: 83]
Conservation and Development—A Study of the Production and Use of Lime in East Africa
Holmes, Stafford
Schilderman, Theo
Journal of Architectural Conservation, Vol. 3 (1997), Iss. 3 P.42
https://doi.org/10.1080/13556207.1997.10785196
[Citations: 0]