Book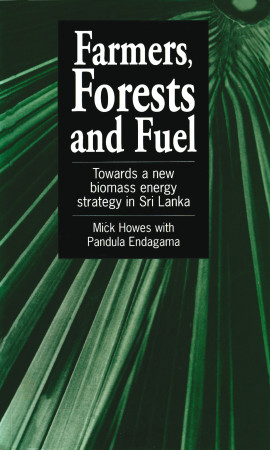 Farmers, Forests and Fuel
Towards a new biomass energy strategy for Sri Lanka
Published: 1995
Pages: 184

eBook: 9781780442167
Paperback: 9781853390890
This survey of the current, and likely future extent of, biomass energy shortages in Sri Lanka seeks to identify the most appropriate means by which these might be addressed, and draws out the lessons to be learned in other parts of the world.
CONTENTS

PREFACE TO NEW EDITION vi

PREFACE AND ACKNOWLEDGEMENTS vii

INTRODUCTION ix

ABSTRACTS xlli

Section I BIONENERGY: PRODUCTION, CONVERSION, UTILIZATION

Chapter 1 Fuelwood: Forestry & Agroforestry 3

Chapter 2 Energy Crops 23

Chapter 3 Agricultural Residues and Organic Wastes 28

Chapter 4 Peat 36

Chapter 5 Briquetting of Biomass 45

Chapter 6 Charcoal Production 55

Chapter 7 Wood and Charcoal Stoves 71

Chapter 8 Biomasss Combustion in Small-scale Industry 92

Chapter 9 Biogas 104

Chapter 10 Draught Animal Power 119

Section II BIOMASS ENGINES AND BIOMASS ENGINE FUELS

Chapter 11 Production of Biomass Engine Fuels 135

- Solid Fuels 139

- Ethanol 141

- Methanol 143

- Vegetable oils 150

Chapter 12 Biomass Fuels in Internal Combustion Engines 154

- Alcohol fuels (ethanol & methanol) 155

- Vegetable oils 157

- Producer gas 158

Chapter 13 External Combustion Engines and use of Biomass Fuels 168

- Steam engines and steam turbines 168

- Stirling engines 174

Chapter 14 Comparison & Selection of Biomass Engines 179

SECTION III SOLAR ENERGY

Chapter 15 Solar Water Heating

Chapter 16 Photovoltaics

Chapter 17 Advanced Solar Heating Systems

Chapter 18 Solar Water Distillation

Chapter 19 Solar Driers

Chapter 20 Solar Cookers

Chapter 21 Passive Heating & Cooling of Buildings

SECTION IV HYDRO, WIND AND WATER POWER

Chapter 22 Small-scale Hydropower

Chapter 23 Ocean Power: Tidal, Wave & OTEC

Chapter 24 Wind Power

Chapter 25 Water Pumping: An Overview

Chapter 26 Wind Pumps

Chapter 27 Hand Pumps

Appendices

Appendix 1 List of Abbrevations, Units and Acronyms

Appendix 2 Conversion Tables

Appendix 3 List of Background Reports Commissioned

by the Beijer Institute
Mick Howes
Michael Howes is a lecturer in environmental policy and regulation at the Australian School of Environmental Studies, Griffith University, Australia. Previously Howes worked as an industrial chemist and technical manager in the manufacturing sector and for several NGOs.