Book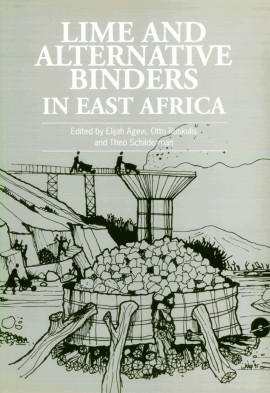 The demand for permanent housing requires production of binders to be significantly increased. A range of binders, especially lime, lime-pozzolana or special earths, can be more appropriate to certain types of building such as housing. Alternatives such as lime offer tremendous potential in reducing the shortage and cost of building materials although there are production constraints. This book looks at the pros and cons of OPC compared with alternative binders.
Acknowledgements

Abbreviations and acrony ms

INTRODUCnON

SECTION 1 Production and co2sumptiono f binders in East Africa

Tanzania

Uganda

Kenya

Zimbabwe

SECTION 2 Lime production: Case studies

Nyalakoti Farming and Lime Works, Tororo, Uganda

Experimental lime kiln at Tororo, Uganda

Kigezi Twimrlkye Lime, Kisoro, Uganda

Equator Lime, Kasese, Uganda

Hima Lime Works, Uganda

Homa Lime Company, Kenya

Kenya Calci~™mro ducts, Tiwi, Kenya

Production of lime in Zanzibar

Wachumico Co-operative Society, Tanzania

Kigamboni Lime Works, Tanzania

Amboni, Tanga District, Tanzania

Village Lime Kilns: The SIDO experience in Tanzania

Kassala area (A1 Gira), Sudan

The lime industry in Malawi

SECTION 3 Lime-pozzolana

HABRI's experience with pozzolanas in Kenya

Pozzolanic cements in Uganda

Research of the Building Research Unit (BRU), Tanzania

SECTION 4 The use of binders in low-income housing

Kenya

Uganda

Tanzania

Zanzibar.

SECTION 5 Workshop resolutions and recommendations
Elijah Agevi Elijah Agevi is CEO at Reseach Triangle Africa, Kenya.
Otto Ruskulis Otto Ruskulis is a consultant researcher.
Theo Schilderman Theo Schilderman is a Senior Researcher at the Building and Social Housing Foundation, UK. He is an architect with over 40 years' experience of low-cost housing and reconstruction in developing countries.