Book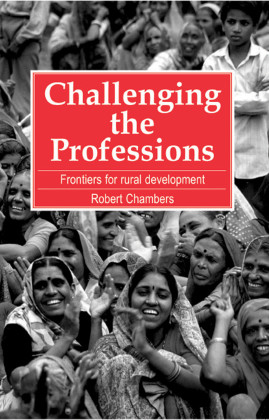 Challenging the Professions
Frontiers for rural development
Published: 1993
Pages: 160

eBook: 9781780441801
Paperback: 9781853391941
Challenging the Professions questions the dominant approaches of professions, disciplines and bureaucracies concerned with rural development. The theme is that 'we', who call ourselves professionals, are much of the problem, and to do better requires reversals of much that we regard as normal. The challenge is to upend our thinking, to turn values on their heads, to invent and adopt new methods, and to behave differently. The frontiers are personal and professional, requiring changes which are radical but quite surprisingly practicable: to question our values; to be self critically aware; to see simple as often optimal; to offset our spatial and seasonal biases; to help rural people do their own analyses; to stay in villages and learn from and with rural people; to test and use participatory approaches, methods and procedures; to encourage decentralization and diversity; to put people before things, and poor people first of all.
PREFACE

ACKNOWLEDGEMENTS

ABBREVIATIONS

DEFINITIONS

1 Normal Professionalism, New Paradigms and Development

2 Managing Rural Development: Procedures, Principles and Choices

3 Project Selection for Poverty-focused Rural Development

4 Health, Agriculture. and Rural Poverty: Why Seasons

5 Farmer-First: A Practical Paradigm for the Third Agriculture

6 Normal Professionalism and the Early Project Process

7 Thinking About NGOs' Priorities: Additionality and Spread

8 The State and Rural Development: Ideologies and an Agenda for the 1990s
Robert Chambers
Professor Robert Chambers is a research associate of the Institute of Development Studies, Sussex, UK, which has been his base since 1969 with periods in other countries. His educational background is in natural sciences, history and public administration. His main administrative and research experience in development has been in East Africa and South Asia. He is widely recognized as one of the main driving forces behind the great surge of interest in the use of Participatory Rural Appraisal around the world. He has been a Fellow at the Institute of Development Studies since 1972 and is an author, co editor and contributor of many books.