Book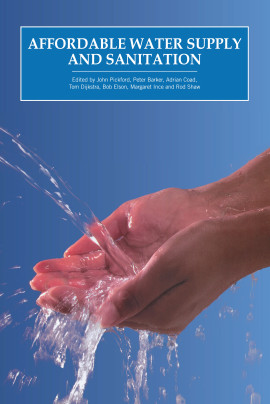 The editors consider the different aspects of, and the issues surrounding, affordable water supply and sanitation. They consider both 'software' aspects - people, communities, health, management and institutions - as well as technological considerations such as waste management.
INTRODUCTION

Section 1 COMMUNITIES, HEALTH,'PEOPLE

B.V. Apparao, Mrs Anitha Pius and G. Karthikeyan India

Mapping of fluorosis affected villages

Dr V.S. Ariyaratne and Palitha Jayaweera Sri Lanka

Sarvodaya integrated approach to waterlsanitation

J.M. Barot India

Gender appreciation in Gujarat , India

Mrs Jemima A. Dennis-Antwi Ghana

Developing hygiene education materials

Ms Vijitha Fernando Sri Lanka

Water and sanitation - gender and equity

Ms Ruthy C.D. Libatique Philippines

Empowering women to manage watsan technologies

Jelle van Gijn and Brian Ellis UK

Community infrastructure programme in Pakistan

Section 2 INSTITUTIONS AND MANAGEMENT

Maria de Fatima Carteado and R. Franceys WEDC

Institution development, Brazil

Rekha Dayal and Peter Lochery India

Application of key sector principles

Dr V. J. Emmanuel Sri Lanka

Water and economic development

Mark Harvey India

Institutional constraints - Maharashtra

Derrick Owen Ikin Switzerland

Demand creation and affordable sanitation and water

A.K.M.N. Islam, Hidetoshi Kitawaki and Rahman Japan

Willingness to payluse for water supplylsanitation

Derek Miles WEDC

Developing private sector capacity

J.M. Moss and J.P. Terme France

Private sector involvement in water services

Kevin Sansom lndia

Institutional strengthening for rural water supplies

Section 3 ENVIRONMENT AND SANITATION

Dr R.Y.G. Andoh UK

Urban drainage -the alternative approach

Tom Dijkstra WEDC

Problem soils in Lanzhou, China

M.S. Fernando Sri Lanka

Sanitary aspects of canal project

John Pickford WEDC

Affordable sanitation for low income communities

H. Pinidya and K.M. Minnatullah Sri Lanka

Urban ða ði t a t i oisnsu es in Sri Lanka

P.R. Thomas and T. Kalaroopan Australia

Macrophyte trenches for septic tank effluent

.Section 4 SOLID WASTE MANAGEMENT

Rehan Ahmed and Arnold van de Klundert Pakistan

Waste rubber recycling

Arun P. Jain India

Solid waste management in India

Danilo Lapid Philippines

Supporting junk dealers and recyclers

Inge Lardinois and Arnold van de Klundert Netherlands

Small-scale urban organic waste recovery

Anselm Rosario India

Decentralized solid waste management approach

L. Paneer Selvam lndia

Community'based SWM project preparation

Section 5 WATER RESOURCES

Subhra Chakravarty and Lalita B. Singh India

Water economy through drip irrigation

Bob Elson WEDC

Low cost, low technology drilling

K.L.L. Premanath and Tissa Liyanopatabendi Sri Lank

Groundwater depletion due to agrowells

Dr Terry Thomas UK

Disseminating ram pump technology

Section 6 WATER SUPPLY PROJECTS

Geoff Bridges UK

Leakage control - the neglected solution

Ms R.L. Haturusinha, Theivasagayam et a1 Sri Lanka

Water and sanitation for Mahawell

Mrs N. Kamalamma, V. Raja, Mrs Prema et a1 India

Spill-water recycling

Prof V. Navaratnarajah Sri Lank

Water problems in the Jaffna peninsula

Dr A.N.S. Kulasinghe Sri Lanka

Pumping technologies - NERD experience

G.R.J. Warder UK

Leakage and demand management

David van der Westhuijzen and K. Pelpola South Afiica

Management oP rural water supply

Eng (Mrs) C. Wethasinghe and Manickavasagar Sri Lank

Quality of drinking water

Michael Wood Ethiopia

Are handpumps really affordable?

Section 7 WATER TREATMENT

M.A.M.S.L. Attanayake and J.P. Padmasiri Sri Lanka

An appropriate iron removal technology

J. Jayalath, J. Padmasiri et a1 Sri Lanka

Algal removal by roughing filter

G. Karthikeyan, Mrs S. Meenakshi et a1 India

Defluoridation technology - alumina

Miss Sonu Malhotra India

Poly aluminium chloride as alternative coagulant
John Pickford John Pickford (1927-2006) founded the Water Engineering and Development Centre at Loughborough University 40 years ago.
Tom Dijkstra He has been involved in research and has taught at the Universities of Utrecht, Leicester, Sussex, Coventry and Loughborough. He teaches on a variety of geotechnical modules and contributes to the WEDC MSc programme (integrated water resource management). He is also involved in research efforts focusing on the effects of climate change on slope stability.