Book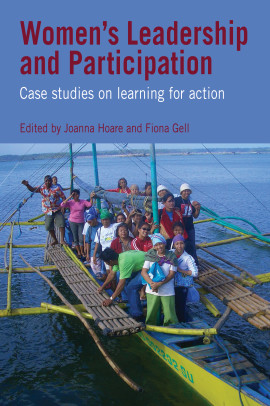 Women's Leadership and Participation
Case Studies on Learning for Action
Published: 2009
Pages: 146

eBook: 9781780440477
Paperback: 9781853396960
This set of ten papers brings together lessons and experience on women's leadership and participation from Oxfam GB and its partners. The right to participate in decision-making at the local, national, and international level is one which women are often denied, whether as active citizens or as leaders. In particular, women living in poverty often have very little opportunity to influence decisions and policies that will have a direct influence on their lives and livelihoods, and on the welfare of themselves and their communities. Engaging more women to participate in decision-making will ensure that their perspectives and needs are more likely to be reflected, as these case studies illustrate. The case studies illustrate methodological approaches and learning points. They cover a range of issues, from women's participation in national elections to female decision-making in community livelihood initiatives. Authors highlight three main approaches to strengthening women's leadership and participation: Overcoming structural barriers to women's leadership and participation Supporting women to take up leadership positions Encouraging and supporting women (and men) to carry out leadership roles effectively and for progressive purposes.
Prelims (Boxes and figures, Acknowledgements)

1. Women's leadership and participation: overview

Joanna Hoare and Fiona Gell

2. Pa Kite M Deyo! Don't Leave Me Out! Haitian women demand their right to participate in public affairs

Kristie van Wetering

3. Creating the space to empower women fi shers: lessons from the Philippines

Aurora Urgel and Gaynor Tanyang

4. Strengthening the voices of women leaders: lessons from Cambodia

Menh Navy

5. Breaking the barriers: Sierra Leonean women on the march

Joanna Hoare

6. Raising voices: training for empowerment for women experiencing poverty in Britain

Sue Smith

7. Women's leadership in economic change in the Occupied Palestinian Territories and Israel

Joanna Hoare

8. Advocacy and national elections: women's political participation in Honduras

Maite Matheu

9. Fighting for women's rights in Chile: supporting women workers and promoting women's political participation

Michael van Gelderen

10. Useful resources

Joanna Hoare

11. Concluding update

Joanna Hoare

Back Matter (Index)
Joanna Hoare Joanna Hoare previously worked for Oxfam GB. She is now a freelance editor and writer on gender and development issues.
Fiona Gell Fiona Gell is a gender and development specialist who has worked for Oxfam GB for many years, most recently as a Global Gender Advisor.
Handbook of Research on Innate Leadership Characteristics and Examinations of Successful First-Time Leaders
Does Gender in First-Time Leadership Represent Compassionate Leadership?
Ukwatte, Sarath L. J.
Yapa, Prem S. W.
2021
https://doi.org/10.4018/978-1-7998-7592-5.ch013
[Citations: 0]
Handbook of Research on Practices for Advancing Diversity and Inclusion in Higher Education
Gender Stereotypes in Decision Making in Higher Education in Greece
Dourgkounas, Georgios
2022
https://doi.org/10.4018/978-1-7998-9628-9.ch005
[Citations: 0]
Women as visible and invisible workers in fisheries: A case study of Northern England
Zhao, Minghua
Tyzack, Marilyn
Anderson, Rodney
Onoakpovike, Estera
Marine Policy, Vol. 37 (2013), Iss. P.69
https://doi.org/10.1016/j.marpol.2012.04.013
[Citations: 51]
Social Issues in Sustainable Fisheries Management
Women in English Fisheries: Roles, Contributions, Barriers and Prospects
Zhao, Minghua
Tyzack, Marilyn
Anderson, Rodney
Onoakpovike, Estera
2014
https://doi.org/10.1007/978-94-007-7911-2_13
[Citations: 4]
Gendered Citizenship in Italian Administrative Law: A Work in Progress Toward a New Public Ethics
Simonati, Anna
Public Integrity, Vol. 18 (2016), Iss. 1 P.59
https://doi.org/10.1080/10999922.2015.1093396
[Citations: 2]