Book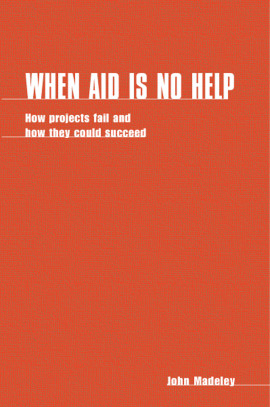 When Aid is No Help
How projects fail, and how they could succeed
Published: 1991
Pages: 148

eBook: 9781780443829
Paperback: 9781853390777
Examines how aid from rich to poor countries often fails to reach those most in need, and how the global aid effort falls short in its most crucial task. It also discusses how changes may be made and offers twelve guidelines to assist aid policymakers.
Much development assistance from rich to poor countries has failed to get through to the poorest peoples, the ones in need of assistance. Much official aid has not even tried, but what about the aid projects that have genuinely tried to reach the poorest?
This book shows that despite such attempts, most of the poorest are still losing out – which means that the global aid effort is failing in perhaps its most crucial task: helping the neediest. The book looks closely at projects in Mali, the Philippines, Bangladesh, Nepal and India. It probes the reasons for the failure of well-intentioned projects to try to pinpoint the exact nature of the problem and the implications for policy. The author takes the view that if the lessons are learned from what is going wrong, then aid projects could benefit the poorest. The poorest often lose out in aid projects because they are not aware of their possibilities, and this is where non-governmental organizations can play a role. The official aid effort has the potential to help the poorest – but it needs to change and become more appropriate to their needs. The book suggests what changes are needed and ends with twelve guidelines for aid policymakers.
John Madeley
John Madeley is editor of International Agricultural Development.
Assessment of public?private?NGO partnerships: Water and sanitation services in slums
Baruah, Bipasha
Natural Resources Forum, Vol. 31 (2007), Iss. 3 P.226
https://doi.org/10.1111/j.1477-8947.2007.00153.x
[Citations: 18]
Synthetic Indices: A Method for Evaluating Aid Project Effectiveness
Crawford, Paul
Perryman, Jarred
Petocz, Peter
Evaluation, Vol. 10 (2004), Iss. 2 P.175
https://doi.org/10.1177/1356389004045076
[Citations: 5]
The Role of Multilateral Organizations: the African Experience
Ingram, James
Outlook on Agriculture, Vol. 20 (1991), Iss. 4 P.251
https://doi.org/10.1177/003072709102000407
[Citations: 1]
Impact of the growing multicultural movement on the portrayal of developing countries in contemporary children's books in Britain: Africa, a case study
Sharma, Anjali
Curriculum Studies, Vol. 5 (1997), Iss. 3 P.301
https://doi.org/10.1080/14681369700200014
[Citations: 0]
How Much Aid is Used for Poverty Reduction?
White, Howard
IDS Bulletin, Vol. 27 (1996), Iss. 1 P.83
https://doi.org/10.1111/j.1759-5436.1996.mp27001008.x
[Citations: 8]