Book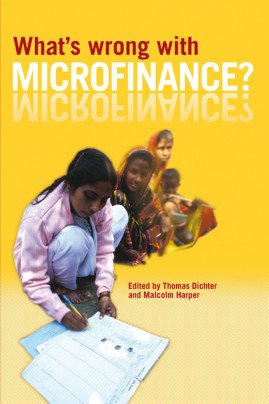 Microfinance has been a long-lived development fashion and in 2005 it enjoyed the accolade of a UN International Year. Many of the world's biggest multinational banks are now eagerly committing quite substantial sums to it, for business as well as public relations purposes. However, there are some important problems which risk being ignored or are fleetingly observed but then swept under the carpet in the current euphoria. The authors sound a timely and overdue warning to governments, bankers, donors and the general public and urges people to pause, reassess their expectations, re-think some policies and to recognise that microfinance is never a panacea and may sometimes be actively damaging to its intended customers. This important book will be of interest to students of microfinance, microfinance practitioners internationally, bankers, government ministries and NGO donor agencies, training institutions, and academics in finance, economics and sociology.
Introduction 1

Thomas Dichter

Part One: Clients

1. Can microcredit make an already slippery slope more slippery?

Some lessons from the social meaning of debt 9

Thomas Dichter

2. Is microdebt good for poor people? A note on the dark side of

microfinance 19

David Hulme

3. Imagining microfinance more boldly: Unleashing the true

potential of microfinance 23

Imran Matin, Munshi Sulaiman and M. A. Saleque

4. What's wrong with groups? 35

Malcolm Harper

5. Finance begins with savings, not loans 49

Hugh Allen

6. 'Institutionalizing suspicion': The management and governance

challenge in user-owned microfinance groups 61

Susan Johnson and Namrata Sharma

7. SHGs in India: Numbers yes, poverty outreach and empowerment,

partially 73

Frances Sinha

8. Microfinance and farmers: Do they fit? 83

Malcolm Harper

Part Two: Institutions

9. The moneylender's dilemma 97

Kim Wilson

10. Princes, peasants and pretenders: The past and future of African

microfinance 109

Paul Rippey

11. Microfinance under crisis conditions: the case of Bolivia 121

Irina Aliaga and Paul Mosley

12. Methodenstreit and sustainability in microfinance: Generalizations

describing institutional frameworks 137

J. D. Von Pischke

13. Microfinance: Some conceptual and methodological problems 149

David Ellerman

14. Learning from the Andhra Pradesh crisis 163

Prabhu Ghate

Part Three: Expectations

15. The chicken and egg dilemma in microfinance: An historical

analysis of the sequence of growth and credit in the economic

development of the 'north' 179

Thomas Dichter

16. A practitioner's view of the challenges facing NGO-based

microfinance in Bangladesh 193

S. M. Rahman

17. De-industrialization and social disintegration in Bosnia 207

Milford Bateman

18. Measuring the impact of microfinance 225

Richard L. Meyer

vi CONTENTS

CONTENTS vii

19. From microcredit to livelihood finance 241

Vijay Mahajan

20. Opportunity and evolution for microfinance 251

Mary Houghton and Ronald Grzywinski
Thomas Dichter
Thomas Dichter has spent half of his 40-year career in international development working in microfinance on three continents. From 1994 to 1998 he was senior consultant to the World Bank's 'Sustainable Banking With the Poor' project. He is the author of Despite Good Intentions: Why Development Assistance to the Third World has Failed.
Malcolm Harper
Malcolm Harper taught at Cranfield School of Management until 1995, and since then has worked mainly in India. He has published on enterprise development and microfinance. He was Chairman of Basix Finance from 1996 until 2006, and is Chairman of M-CRIL, the microfinance credit rating agency.