Book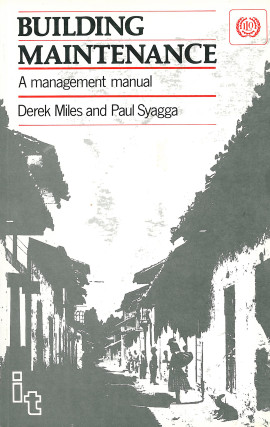 Building Maintenance
A management manual
Published: 1987
Pages: 224

eBook: 9781780441771
Paperback: 9780946688920
This book describes the management and administration of building maintenance and the methods or basic technologies. It is aimed at managers of small building units, it describes some common causes of the deterioration of building fabric and suggests some solutions.
Foreword

Acknowledgements

List of Figures

List of Tables

1. Is Solar Pumping for You?

1.1 Purpose of this Handbook

1.2 Energy for Water Pumping

1.3 The Solar Resource

1.4 Typical Water Pumping Applications

1.5 Overview of Solar Pump Viability

2. The Technology

2.1 Photovoltaic Pumping Systems

2.2 Photovoltaic Arrays

2.3 The Motor and Pump Subsystem

2.4 Storage and Distribution

2.5 A Typical Day's Operation

3. Site Evaluation

3.1 Assessing Water Requirements

3.2 Solar Energy Availability

3.3 System Sizing

3.4 Specifying Performance

4. Economic Assessment

4.1 Methodologies for Economic Evaluation

4.2 Procedure for a Cost Appraisal of Water Pumping

4.3 Guidance on Costs and Economic Viability

5. Procurement, Installation and Monitoring

5.1 Procurement

5.2 Installation and Operation

5.3 Monitoring and Evaluation

Appendix 1. Solar Radiation Data

Appendix 2. Present Worth Factors

Appendix 3. Equations used for system sizing

Appendix 4. Examples

Appendix 5. Blank Format Sheets

Appendix 6. Example Tender Documents

Appendix 7. Glossary and List of Symbols Used
Derek Miles
Dr Derek Miles is a Fellow of the Institution of Civil Engineers and the Chartered Management Institute, a Liveryman of the Worshipful Company of Engineers and a Freeman of the City of London.
Paul Syagga
Paul Syagga is Professor of Land Economics, University of Nairobi
Assessment of building maintenance management in Malaysia: Resolving using a solution diagram
Zawawi, Emma Marinie Ahmad
Kamaruzzaman, Syahrul Nizam
Ali, Azlan Shah
Sulaiman, Raha
Journal of Retail & Leisure Property, Vol. 9 (2010), Iss. 4 P.349
https://doi.org/10.1057/rlp.2010.16
[Citations: 12]
Building maintenance in the context of developing countries
Wall, David M.
Construction Management and Economics, Vol. 11 (1993), Iss. 3 P.186
https://doi.org/10.1080/01446199300000018
[Citations: 6]
Relationship between Quality of Building Maintenance Management Services for Indoor Environmental Quality and Occupant Satisfaction: Case Study of Bus Terminal Buildings in Penang
Full, Chong Choon
Tabassi, Amin Akhavan
Othuman Mydin, M.A.
Abdul Hamid, A.H.
SHS Web of Conferences, Vol. 11 (2014), Iss. P.01011
https://doi.org/10.1051/shsconf/20141101011
[Citations: 1]
Knowledge Management and Information Tools for Building Maintenance and Facility Management
The Building Registry
Talamo, Cinzia
2016
https://doi.org/10.1007/978-3-319-23959-0_3
[Citations: 0]