Book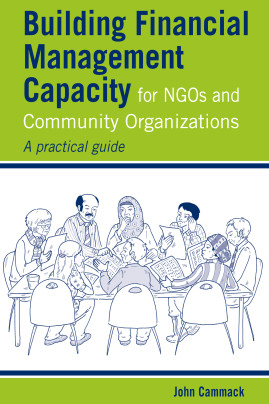 This book presents practical ways to build financial management capacity in an international development context (although much of it applies to any non-profit organization). It describes good practice in the specific tasks of financial management – for example, planning and budgeting and financial controls. It gives examples of how groups and organizations build their own capacity. It also considers what leadership teams can do to guide their organization's longer-term direction and improve governance and it describes other financial management aspects such as building reserves that can be built into an organization's structure to make it more sustainable. Building Financial Management Capacity should be read by programme staff and managers of non-government organizations, larger community-based organizations (CBOs), and charities, as well as for large NGOs and donors working with their partner NGOs and CBOs. The content can also be used in training courses, and university and college courses for international development workers.
Prelims (Acknowledgements/ About the author/ Glossary)

Introduction

Part One: Linking Capacity-Building and Finance

1. Capacity-building and finance

2. Assessing financial management capacity

Part Two: Building Financial Management Capacity

3. Planning and budgeting

4. Accounts record-keeping

5. Financial reporting

6. Financial controls

7. External audit

8. Organizational aspects of financial management

Part Three: Moving Towards Sustainability

9. Organizational sustainability, planning and 'core costs'

10. Moving toward sustainability: 'reserves'

Part Four: Tools for Building Financial Management Capacity

11. 'Toolkit' for financial management capacity-building

12. Training for financial management capacity-building

Back Matter (Appendices/ Notes /Web resources /Written resources/ Index)
John Cammack
John Cammack is a freelance adviser and consultant, trainer, writer and coach with international non-government organizations. He has previously worked as head of international finance at Oxfam UK and as a senior lecturer in accounting and financial management at Oxford Brookes University.